Nascar Challenge Returns

Nascar Challenge Contest Continues during the 2018 Season.

Each week during the season you will have a chance to win weekly prizes. There will also be a monthly prize and a grand prize at the conclusion of the season.
Contest Schedules and Entry Available Here
Merrill Homeless Center Receives Building Permits, Remodel Set to Begin
Published on 02/20/2018 under News Last fall, a group from Merrill announced plans for a homeless shelter, now action on that plan is about to pick back up. The group became known as Merrill Community Homeless Center Inc, and their project the new Habitat Home. They were able to secure a property on West Main Street in October, as well as several large grants over the past few months. Organizers say "building plans were developed, and changes were made along the way to meet required codes. The State of Wisconsin is key to approving the Building Plan, which is necessary to acquire a building permit." Last week, the board confirmed that they have received that permit and "now the real work begins." A crew of volunteers will handle the interior demolition needed to prepare the building for the remodel. Three contractors have been selected to work on renovations. Those are expected to cost around $150,000, and additional donations are welcome.
+ Read More
AG Schimel Continues 72 County Tour with Stops in Lincoln, Oneida Counties
Published on 02/20/2018 under News Throughout his term, Attorney General Brad Schimel has made it a point to travel to all 72 of the state's counties meeting with local law enforcement and elected officials. This past week, Schimel once again visited the Northwoods with stops in Lincoln and Oneida Counties. Schimel noted that, "At the DOJ, (they) rely on (their) partnerships with municipalities and counties to carry out the public safety mission." He says these meetings are critical to making sure the DoJ tailors resources to the needs at the local level. Oneida County Sheriff Grady Hartman said they appreciated Schimel coming North to speak about issues important to the community. While each of the visits has focused on the challenges and safety concerns specific to each county, there has been an overarching theme focused on drug and opioid abuse. The North Central Drug Enforcement Group, which includes Lincoln and Oneida counties will receive more than $50,000 this year to help investigate drug distribution crimes in the region.
+ Read More
Northwoods Boy Scouts Partner with Public Service for Electricity Badges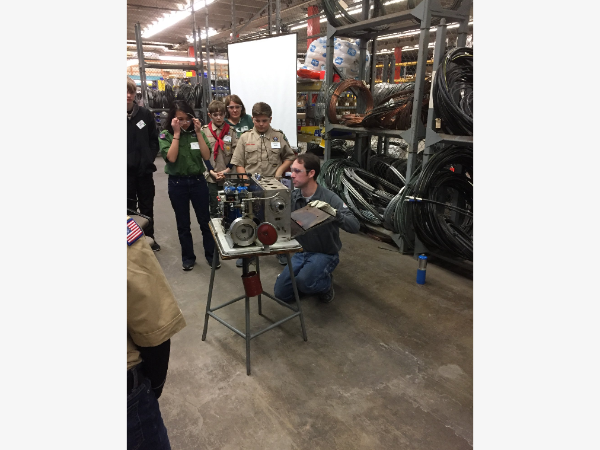 Published on 02/20/2018 under News For more than six decades, Wisconsin Public Service has partnered with area Boy Scouts to earn merit badges. They did so again this past weekend. WPS volunteers were in Wausau for their annual electricity merit badge clinic, joined by approximately 50 boy scouts from north central Wisconsin. Among the activities, the scouts learn how electricity is generated, design circuits and create working electromagnets. This year representatives from the Wausau Fire Department were also on hand to share tips on how to remain safe during emergencies involving electricity. The clinic allows line electricians, engineers and other WPS employees to introduce Scouts to energy industry careers, as well as enhance science and engineering skills. The Samoset Council, which provides guidance to Scouts in north central Wisconsin, has seen significant interest recently in these subjects, as more than 370 Scouts are enrolled in its "STEM Scouts" program. This is actually the 66th year for the event. They'll hold another for Fox Valley Scouts in Green Bay next month.
+ Read More
DNR Announces CWD Meeting in Tomahawk Wednesday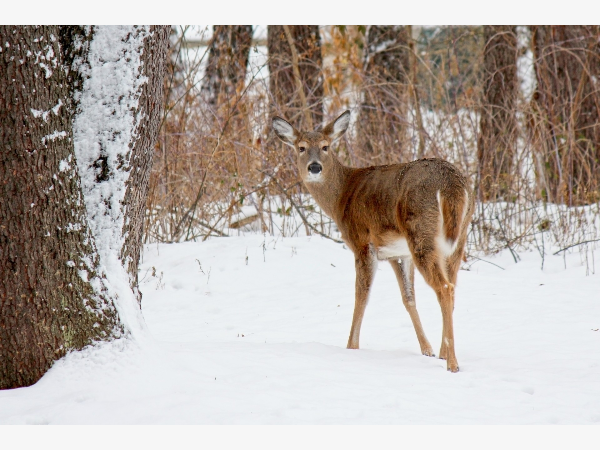 Published on 02/20/2018 under News The DNR announced yesterday that they will be hosting a meeting here in the Northwoods regarding deer with chronic wasting disease. Last month the DNR announced that a deer harvested in Lincoln County had tested positive for Chronic Wasting Disease or CWD. That positive test triggered a number of changes as required by state law. Most notably a deer feeding ban which goes into effect not only in the affected county, but neighboring counties near the positive test. Coming up tomorrow the DNR will be hosting a public informational meeting on CWD, the positive test, and the steps going forward. It will be hosted right here in Tomahawk. For those that would like to attend, it's scheduled for 7pm, Wednesday evening, at the High School.
+ Read More
Wyatt Wenninger Advances to State
Published on 02/19/2018 under Sports Tomahawk Hatchet Junior Wyatt Wenninger has advanced to the WIAA State Individual Wrestling Tournament with his third place finish on Saturday at the sectional meet at Oconto Falls High School.  A total of 14 others wrestlers from the Great Northern Conference punched their tickets to the state tournament in Madison. Rhinelander lead the way with 5 qualifiers: Tyler Olson-1 @ 120 Jacob DeMeyer-1 @ 145 Alex Kurtz-1 @ 195 ReubenGuzik-2 @ 113 Colton Krueger-2 @ 220 Medford had 4 qualifiers: Zeke Sigmund-2 @ 132 Kolten Hanson-2 @ 160 Dane Higgins-3 @ 120 Jake Rau-3 @ 195 Lakeland had 3 qualifiers: Jack Scandin-2 @ 138 Dejay Nordrum-3 @ 120 Tate Olson-3 @ 132 Antigo had 2 qualifiers: Brandon Lucht-2 @ 145 Ben Stimac-3 @ 126 Both Antigo and Rhinelander will be wrestling on Thursday afternoon while Medford, Lakeland, & Tomahawk will hit the mats Thursday night.
+ Read More
Travis Phillips Finishes Fourth at State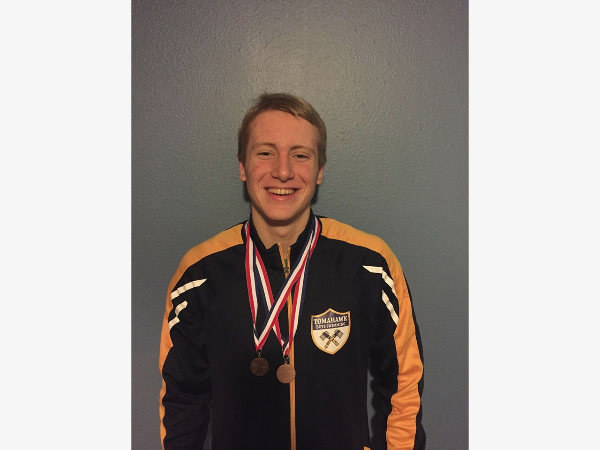 Published on 02/19/2018 under Sports On Friday night, February 16th, Travis Phillips of the THS Boys Swim Team represented Tomahawk really well down in Madison at the WIAA, Division II State Swim meet, held at the UW-Madison Natatorium. Travis had qualified for State in 2 individual events at sectionals in Hudson. In his first event, the 50 yard freestyle, Travis was seeded 5th with a :22.27 and he ended up in 4th place overall with personal best and repeat school record time of :21.98. Travis came in behind Max McHugh from Sturgeon Bay in 1st at :20.34, a new state record time, as well as Shane Sackett from Monona Grove in 2nd at :21.67 and Joe Stone of Ashwaubenon in 3rd, only .02 ahead of Travis in :21.96. The top eight finishers in the event were only 1.88 seconds apart, from the winning :20.34 to :22.22. In Travis' second event, the 100 yard butterfly he was seeded 7th with a :54.10, and he swam a 1.14 second personal best and new school record time of :52.96 again claiming 4th place honors. In this race, Travis came in behind Ben Hayes of Brown Deer with a winning time of :49.62, followed by Monona Grove's Eric Storms in :49.65 and Sam Ryf of Berlin/Green Lake in 3rd at :52.38. In overall team results, there were a total of 35 Division II teams represented at the state meet and Monona Grove took top team honors with 333 points, well ahead of Edgewood in 2nd with 191 points, followed by Ashwaubenon in 3rd with 174 and our own GNC rivals the Lakeland T-Birds in 4th at 143.5 points. GNC team, the Rhinelander Hodag's were in 15th place with 53 points and Travis's 2 events earned 30 points for a three-way tie between Tomahawk, Pulaski and Whitewater.
+ Read More
Hatchet Boys Hockey Team Loses in Regional Final
Published on 02/16/2018 under Sports The Tomahawk Hatchet Boys Hockey Team traveled to Marathon Park on Thursday night to face Wausau West in WIAA Regional Final action.  The Warriors advance to the sectionals, with an 8-0 win over Tomahawk. Wausau West led 3-0 after the first and 6-0 after the second period. Tomahawk ends their 2017-18 season with a 13-11-1 record.
+ Read More
Jeff in the Morning and Zach with the News
5:00 until 10:00AM

Phil at Mid-Days on Monday & Tuesday
Tim at Mid-days on Wednesday - Friday

Michael Late Afternoons and Evenings

Morning Forum 9:35AM Monday - Friday