Nascar Challenge Continues
The Big Q's Nascar Challenge contest continues, with a chance to win a $25.00 gift card from Outboards Bar & Grill weekly, $50 in Chamber Bucks as the monthly prize or a chance to win a large screen TV as the grand prize from Tomahawk Appliance and Home. All the contest information and entry available here: Nascar Challenge
Students Safe, Tomahawk School District Responds to Threatening Remarks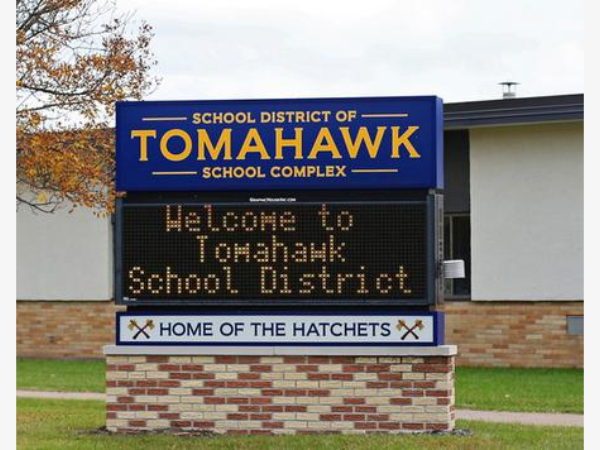 Published on 10/17/2019 under News The Tomahawk School District says students are safe after responding threats made by a student earlier this week. According to an announcement from district administrator Terry Reynolds, two high school students contacted the School Resource Officer about a threat made Wednesday afternoon. They reported another student made threatening remarks about possibly doing harm to other students today (Thursday.) Working with administration, Officer Susa interviewed the student and contacted parents to determine the intent and ability of the student to carry out the threat. The announcement says the student will be detained off site for further professional evaluation in the coming days. Reynolds assured everyone that the student did not have access to weapons at school and everyone was safe. He says any threat is taken seriously and investigated immediately. Reynolds also praised the two students who came forward to express their concerns with Officer Susa saying, "Such communication is key to ensuring everyone's safety in (district) buildings."
+ Read More
Memorial Pillar Created for 4 Weston Shooting Victims
Published on 10/17/2019 under News A permanent memorial has been unveiled in Weston in memory of the four victims of shooting incident two years ago. Yesterday organizers held a ribbon-cutting and dedication ceremony for the memorial located in Kennedy Park. Each of the four sides features an image and inscription of a victim: Detective Jason Weiland, Dianne Look, Karen Barclay, and Sara Quirt Sann. The memorial is topped with an eternal flame sculpture. The base reads "Gone, but Never Forgotten." The four were the victims in a shooting rampage on March 22, 2017. Organizers were able to raise fund for the project through the recently established Run to Remember race, which includes Kennedy Park in the route. In addition to family members, friends, and co-workers, yesterday's ceremony was attended by local law enforcement, elected officials, and Wisconsin Attorney General Josh Kaul.
+ Read More
Merrill Program Exposes Area Veterans to Fab Labs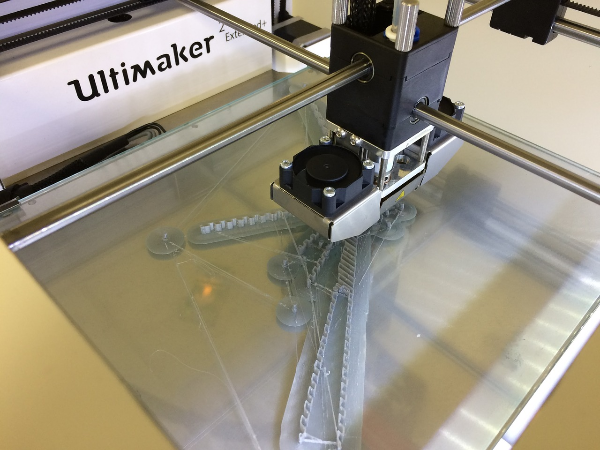 Published on 10/17/2019 under News Area veterans are getting a chance to experience cutting edge manufacturing technology through a partnership with the Merrill School District. In recent years there has been a push to establish Fabrication Laboratories or Fab Labs in schools across the state. A fab lab is a high tech workshop and classroom equipped with computer-controlled manufacturing components such as 3D printers and plasma cutters. Recently, the Merrill School District and instructor Josh Zalewski invited local veterans to sign up in a series of courses which kicked off this week Introduction to 3-D Printing. Upcoming courses will educate the veterans on other equipment including a computerized router and a laser engraver. The materials and coursework are being offered to the veterans free of charge. The program is a collaboration with the Northwoods Veterans' Post in Merrill.
+ Read More
Officials Considering Extending Walleye Restrictions on Minocqua Chain
Published on 10/17/2019 under News Officials are considering extending the walleye catch and release requirement on the Minocqua Chain of Lakes for another year. To address a decline in the walleye population in the chain, a working group was established involving the DNR, Great Lakes Indian Fish and Wildlife Commission, Lac du Flambeau Tribe, Walleyes for Tomorrow, and Wisconsin Valley Improvement. The group created a ten year plan to address the issue. No walleye harvest or tribal spearing has been allowed since 2015. That was to be followed by 5 year period of reduced bag limits. With the catch and release portion set to expire next spring, the group is now recommending the no harvest restriction be extended by another year. Coming up next week, they'll host a public informational session on the plan at the Woodruff Town Hall on October 23rd 6pm.
+ Read More
Hatchet Cross Country Teams Win Hatchet Invite
Published on 10/14/2019 under Sports Tomahawk hosted 12 teams for their annual Cross-Country Invitational at Edgewater late Saturday morning. The host Hatchets despite the cold, windy, and at times snowy conditions won three of four events at their invite and finished in the runner-up spot in the remaining race. The varsity boys were dominant in their win, while the girls upended 4th ranked Lakeland by the narrowest of margins. Nineteen Hatchet runners had either personal best times or seasonal best efforts at their respective distances in the less than ideal racing conditions. The lady Hatchets packed all of their scoring runners in the top eleven to offset the 1-3-5 finish by the TBirds en route to victory. Senior Haley Voermans-Dean, ran a solid last 1000 meters propelling herself to another career best time of 19:40 as she finished 2nd overall. Joining Haley on the podium were EmilyLacina (4th-20:11-PR), Kate Reilly (6th-20:31-PR), Macey Mann (10th-21:01), and Meagan Berg (11th-21:04). Freshmen Greta Tjugum (24th-22:08-SB) and Serena Reinke (31st-22:31-SB) also turned in seasonal best performances for the 5K distance. 70 runners competed in the varsity event. Currently,the ladies have defeated 118 teams, while only falling to 2 (Pct. .983) on the season. Team Scores were:Tomahawk-33, Lakeland-36, Mosinee-101, Chequamegon-138, Rhinelander-139, New London-144,Phillips-161, Wabeno-Laona-194, Crandon-257, Antigo-Inc, Nekoosa-Inc, Waupaca-Inc. Junior Noah Buckwalter had an outstanding last 400 meters and a solid finishing kick to outdistance thecompetition as he won his first individual invitational title in a career best time of 17:00. Drew Bolder(3rd-17:15), Trey Baalke (8th-17:47-PR), Arden Ziert (14th-18:06) joined Noah as medalists. Helping propel Tomahawk to the varsity title in the 70+ runner field were Garron Albrent (16th-18:10), Alex Norman(26th-18:26) and Jack Lacina (30th-18:43-PR). The win leaves the boys with a current regular season record of W-119 L-9 (Pct. .930) going into tournament play next weekend. Team scores were:Tomahawk-43, Lakeland-75, New London-119, Mosinee-125, Rhinelander-134, Waupaca-134, Chequamegon-154, Phillips-159, Wabeno-Laona-227, Nekoosa-251, Crandon-320, and Antigo-Inc. In the last race of the day the Junior Varsity girls wrapped up a solid meet for the Hatchets as they cruised to the JV team title by placing all their scoring athletes in the top 12. They were led by medalists Geena Wanta (4th-23:10-PR), Neenah Fuste (5th-23:11-PR), and Ava Dragosh (6th-23:17-PR). Rounding out the scoring for the girls were: Gillian Buckwalter (11th-24:04), Leslie Vance (12th-24:10), Autumn Peissig(26th-25:48), and Yumo Zhang (37th-28:24).In their runner-up finish the JV boys were led by medalists Keaton Jed (5th-18:35), Hunter Borchardt (6th- 18:47-PR), Ethan Liebnitz (9th-19:17-PR), and Brady Tjugum (10th-19:23-SB). Other JV Hatchet finishers were: Hunter VanRyen (11th-19:27), Jacob Towle (15th-19:39-PR), Matt Johnson (17th-19:47-SB), ReedZedler (18th-19:48-PR), Taje Casey (35th-21:15-SB), Henry Calhoun (46th-22:06), Trey Miller (47th-22:10-PR), and John Mark Hawley (56th-23:35). Next race is Saturday as the Hatchets travel to Antigo and Gartzke Flowage Bike and Ski Trails for the Great Northern Championships. The meet gets started at 11:00 a.m.
+ Read More
Hatchet Cross Country Teams Win the Athens Invite
Published on 10/04/2019 under Sports Tomahawk made the trip to Erbach Park in Athens and competed in their annual 15-team Cross-Country Invitational. The 6th ranked lady Hatchets won their third consecutive invite, while the 10th ranked boys topped the field for the second straight week. The Tomahawk women were led by Haley Voermans-Dean as she won her second straight invitational title and raced to a career best time of 19:41 in the process. Hatchet teammates Emily Lacina (2nd-20:22-PR) and Kate Reilly (11th-21:02-PR) joined Haley on the awards stand with their medalist efforts. Meagan Berg (16th-21:36) and Macey Mann (19th-22:04) were the final scorers for the victorious Hatchets. Other finishers helping Tomahawk stay ahead of state-ranked Auburndale and Gillett were: Greta Tjugum (31st-22:34-PR), Serena Reinke (46th), Neenah Fuste (48th), Leslie Vance (55th-24:01-PR), Gillian Buckwalter (58th), Ava Dragosh (60th-24:25-PR), Tiana Gerstenberger (63rd), and Autumn Peissig (65th). 121 athletes toed the line for the girls 5K race. With the late addition of state-ranked Gillett to the field, the varsity boys had to step it up a notch to top the field for their team title. The 1-2 combination of Drew Bolder (4th-17:16) and Noah Buckwalter (5th-17:19) along with teammate medalists Trey Baalke (13th-18:05) and Garron Albrent (14th-18:09) and top finishers Arden Ziert (16th-18:19) and Alex Norman (19th-18:26) enabled the Hatchets to take the team title. Other Hatchet finishers were: Jack Lacina (27th-18:55-PR), Keaton Jed (28th), Hunter Borchardt (33rd-19:01-PR), Hunter VanRyen (43rd), Matt Johnson (45th), Ethan Liebnitz (51st), Jacob Towle (53rd-20:17-PR), Brady Tjugum (54th), Reed Zedler (63rd), Taje Casey (76th), Henry Calhoun (85th), John Mark Hawley (98th), and Trey Miller (101st) in the 120 runner field. Varsity Team Scores: (Girls) Tomahawk-49, Auburndale-74, Gillett-95, WR Assumption-122,Colby/Abby-135, Prentice-182, Three Lakes-185, Athens-196, Stratford-202, Laona/Wabeno-216,Spencer-296, Thorp-357, Marshfield Columbus-358, Owen/Withee-Inc, Stanley/Boyd-Inc (Boys) Tomahawk-47, Gillett-71, Athens-80, Stratford-94, Auburndale-111, Prentice-138, Colby/Abby-204, Laona/Wabeno-220, Spencer-258, Thorp-277, Owen/Withee-306, Stanley/Boyd-342, WR Assumption-Inc, Marshfield Columbus-Inc, Three Lakes-Inc. Despite the soft and sloppy course conditions, the Co-Ed Hatchets were able to bring home 9 Career Best 5K efforts. Next race for Tomahawk is next Saturday as the Hatchets host their 43rd annual invite at Edgewater Country Club. Races get underway at 10 a.m.
+ Read More
Hatchet Girls Swimming Team Loses at Ladysmith
Published on 10/04/2019 under Sports On Thursday night, the Hatchet Girls Swimming Team was at Ladysmith for a Great Northern Conference Dual and the Hatchets lost by two points, 91-89. Tomahawk had first place finishes fro Kylee Theiler in the 50 and 100 freestyle and Megan Miles won the 100 backstroke. Tomahawk also had a first from Karlie Woodall in Diving and their 400 freestyle relay team also was first.
+ Read More
Jeff in the Morning and Zach with the News
5:00 until 10:00AM

Phil at Mid-Days on Monday & Tuesday
Tim at Mid-days on Wednesday - Friday

Michael Late Afternoons and Evenings

Morning Forum 9:35AM Monday - Friday