Deputies Investigating Hit and Run after Vehicle Struck Power Pole Near Tomahawk Wednesday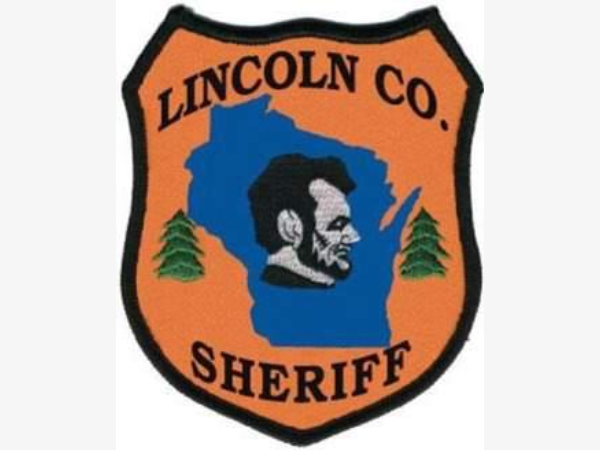 Published on 01/17/2022 under News The Lincoln County Sheriff's Office is seeking information involving a hit-and-run crash south of Tomahawk last week. According to the Sheriff's Report, deputies responded to a power outage along Crass Road near Beaver Lake Road Wednesday. They found a power pole had been damage after apparently being struck by a vehicle. The vehicle left the scene prior to the arrival of the deputies. The incident remains under investigation. Anyone with information is asked to contact the Sheriff's Office or Crimestoppers of Lincoln County.
+ Read More
Tomahawk Artist Welcomes Visitors to Rainbow Igloo, Collects Donations for HAVEN
Published on 01/17/2022 under News Earlier this month, we told you about a Tomahawk artist who undertook a project to create a rainbow igloo. This past weekend, Michelle Arnott invited visitors to check out the now-completed ice shelter in her backyard. The igloo was built using ice bricks formed by freezing colored water in baking pans. Through her business Diamond Rock Glass Studio, Arnott is best known for work with stained-glass. The dyed ice blocks create a similar visual effect, particularly when illuminated at night. As word spread about the project, Arnott decided to open the igloo to visitors over the weekend. With guests both young and old stopping to snap a photo, Arnott took the opportunity to support a cause near and dear to her heart. She collected donations for the HAVEN shelter in Lincoln County. Over the course of the weekend, they were able to raise more than $400. Visitors were also treated to hot chocolate and penguin treats for kids. For those unable to attend, Arnott has photos of the completed and lit igloo on the Diamond Rock Facebook page. -Photo courtesy of Michelle Arnott-
+ Read More
Local Responders Take Part in Ice Rescue Training on Lake Nokomis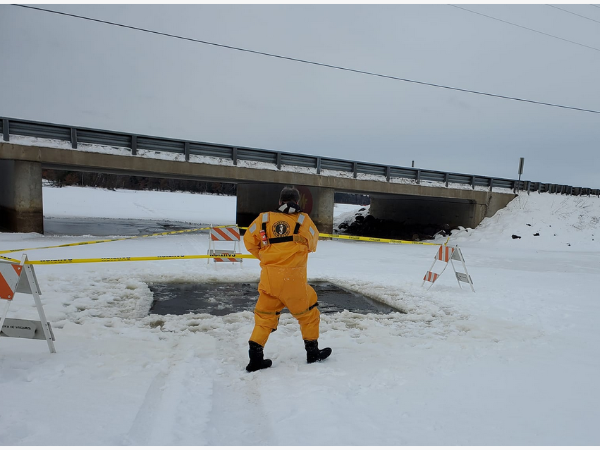 Published on 01/17/2022 under News Local responders got some hands-on training in ice rescue over the weekend. On Saturday morning, the Nokomis Fire Department hosted around two dozen members of local dive teams made up of paramedics, EMT's, firefighters, and law enforcement. The training was designed to offer responders a chance at some real-life practice in a non-emergency situation. The crews set up their training session near the County Y bridge where they cut a hole into the ice. Like a real-life situation, the responders had to deal with unpredictable weather. Temperatures started off the day at around 10 degrees below zero. The exercise provides valuable training and experience for responders; a skill they hope they don't have to apply to a real-life emergency.
+ Read More
Chequamegon-Nicolet National Forest Waiving Fees Monday for MLK Jr. Day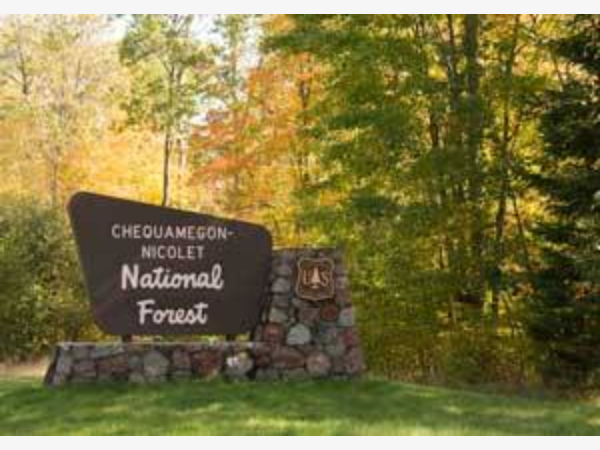 Published on 01/17/2022 under News Fresh off of a free fishing weekend offered by the DNR, the US Forest Service will be waiving day-use fees today at Chequamegon-Nicolet National Forest in recognition of Martin Luther King Day. Forest Supervisor Paul Strong says, "The national forest offers many opportunities to get outside for adventure, exercise or simply fresh air. We hope this holiday waiver provides a bit of encouragement to get out and enjoy our national public lands." This fee waiver applies to most trailheads where visitors may normally pay a $5 day-use fee. National Forests around the country are also participating. This is the first of five scheduled fee waiver dates offered in National Forests this year. The next upcoming 2022 free dates are:•Presidents Day: February 21 •National Get Outdoors Day: June 11 •National Public Lands Day: September 24 •Veterans Day: November 11
+ Read More
Hatchets Sports Recap - Weekend
Published on 01/17/2022 under Sports WRESTLING The Tomahawk Hatchets Wrestling Team finished second in the Markesan Invitational on Saturday. TEAM RESULTS: Arrowhead 243Tomahawk 182.5Markesan 150.5Kiel 111.5Kenosha St. Joseph Catholic Academy 107.5Ripon 95.5Winnebago Lutheran Academy 94Dodgeville 90-5Omro 55 INDIVIDUAL RESULTS: 1-Marcus Matti (now 21-1)2-Logan Bishop (now 18-4)2-Jack Derleth (now 12-10)3-Blake Younker (now 4-8)3-Micah Arnott (now 17-7)3-Addison Peissig (now 15-4)3-Presley Gutbrud (now 17-7)4-Mason Evans (now 19-4)4-Hudson Mattke (now 5-6)4-Ryan Larson (now 9-8)5-Blake Felser (now 16-8)5-Brayden Jones (now 6-17)6-Andrew Tollefson (now 13-11)8-Ethan Trayes (now 3-13)
+ Read More
Hatchets Sports Recap - Thursday
Published on 01/14/2022 under Sports BOYS SWIMMING The Tomahawk Hatchets Boys Swimming Team beat Lakeland 77-38 on Thursday night in a GNC Dual. NEXT: The Hatchets will travel to Shawano for a GNC Dual on Thursday beginning at 5:30pm. WRESTLING The Tomahawk Hatchets Wrestling Team improved to 2-0 in GNC Duals this season, with a win over Antigo 63-15 on Thursday night. Winning matches by the forfeit were Presley Gutbrod, Andrew Tollefson, Addison Peissig, Ryan Larson, Ethan Trayes, and Blake Younker. Winning matches by the pin were Mason Evans, Logan Bishop, Micah Arnott, and Marcus Matti. Blake Felser won a 7-2 decision. NEXT: Tomahawk will compete in the Markesan Invitational on Saturday, with the opening round at 9:30am. HOCKEY The Tomahawk Hatchets Hockey Team lost to Mosinee 11-0 on Thursday evening. The Hatchets fall to 5-7 on the season. NEXT: Tomahawk will host Ashland on Tuesday at 7:00pm.
+ Read More
Hatchets Sports Recap - Tuesday
Published on 01/12/2022 under Sports HOCKEY The Tomahawk Hatchets Hockey Team beat Northland Pines 10-4 on Tuesday night to improve to 5-6 on the season. The Hatchets beat the Eagles for the first time since the 2010-2011 season and earned their 10th win over the Eagles in the history of the rivalry. Austin Lamer led the Hatchets with three goals. NEXT: The Hatchets will travel to Mosinee on Thursday, with the opening faceoff at 7:00pm. BOYS BASKETBALL The Tomahawk Hatchets Boys Basketball Team lost a non-conference game to Elcho on Tuesday night, 64-43. NEXT: The Hatchets will host Rhinelander on Friday night at 7:15pm. You can hear the game on Northwoods 92.5FM. GIRLS BASKETBALL The Tomahawk Hatchets Girls Basketball Team lost to Abbotsford 55-24 on Tuesday evening. STATS: Gracie Barnett - 9 PointsKhianna Vacho - 6 pointsElla Genelin - 5 points
+ Read More
5:00 until 10:00AM
Jeff in the Morning
Zach with the News | Hunter with Sports

10:00AM - 3:00PM
Phil on Monday
Hunter on Tuesday - Friday

Late Afternoons and Evenings
Michael

Morning Conversation 9:35AM Monday - Friday