Deadline Approaches for City of Tomahawk Bicycle/Pedestrian Survey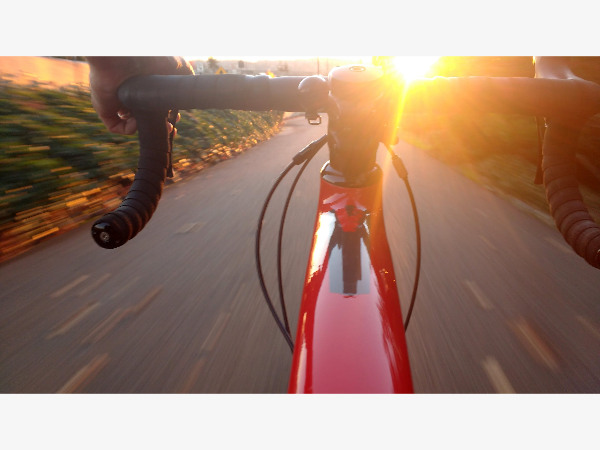 Published on 07/23/2021 under News Over the past few weeks, the City of Tomahawk has been gathering input on bicycle and pedestrian use in the city to create a long-range plan. Visitors and residents have a few more days to complete the survey The Bicycle and Pedestrian Plan will serve as a guide on potential routes, improvements, roadway recommendations and safety program ideas in the City of Tomahawk. One of the first steps in establishing the plan is a public-use survey, which launched earlier this month. City officials are encouraging people to complete the questionnaire before the close of the survey this weekend. Questions include the purpose, frequency, and habits of bikers/walkers within the city, along with potential improvements they'd like to see. Most of the questions are choice or short answer and the entire survey takes less than ten minutes. The city hopes to have the plan ready for approval in the late fall or winter. Participants have until July 25, that's this coming Sunday, to complete the survey. Link to participate in the Tomahawk Bicycle and Pedestrian Survey.
+ Read More
Wausau Center Mall Demolition Nearly Complete
Published on 07/23/2021 under News After nearly 40 years anchoring the downtown community, little remains of the Wausau Center Mall. Earlier this week, crews took down the main entrance archway, one of the final pieces that was left standing. Future plans include the redevelopment of the property as an urban hub featuring housing, boutique retail, hospitality and gathering spaces. Chuck Ghidorzi from the Wausau Opportunity Zone (WOZ) said of the final demolition, "People will have a decent view of the redevelopment space and can really begin to visualize its potential." Crews were able to salvage some mall artifacts during the demolition process. That includes the Boy and Boot Sculpture which predates the mall by decades. It was actually donated to the city in 1925, and placed at the mall when it opened in 1983. The statue will be relocated to an undetermined location. The Marathon County Historical Society was also able to salvage some historical items and images. WOZ said in the announcement that community minded groups like Habitat for Humanity and St. Vincent de Paul will re-purpose fixtures and other items left in the building. Demolition began on May 21 of this year. -Photo provided by the Wausau Opportunity Zone
+ Read More
DNR Encourages Life Jacket Use Ahead of Anticipated Busy Weekend on Waterways
Published on 07/23/2021 under News With temperatures spiking this weekend, area waterways will be crowded this weekend. The DNR is once again encouraging boaters to wear a life jacket when hitting the water. So far this year, 16 people have died in boating incidents in Wisconsin. The DNR only tracks drownings involving a boating incidents. The leading cause in these incidents is drowning and many are preventable by wearing a safety vest. Lt. Darren Kuhn is a DNR boating law administrator. He says, "Wearing a life jacket is the easiest thing you can do to make sure that your next boating trip won't be your last." It's important to actually wear the life vest rather than keeping it stowed on your boat. Lt. Kuhn notes that most people who drown in boating accidents know how to swim, but become injured, knocked unconscious, exhausted, or weighed down by clothing. The DNR added that operator inexperience, inattention, recklessness and speeding are the leading causes of boating accidents.
+ Read More
Postponed Project North Organizers Selling "Festival in a Box"
Published on 07/23/2021 under News Despite being postponed until 2022, the Project North spirit is alive and well in Rhinelander. Organizers are currently offering what they're calling a "festival in a box" to hold people over until next year. After more than a year of planning, the Rhinelander community hosted their first Project North celebration in 2019. it was a combination of music concerts and artistic displays with a sustainability focus. Last year's event was canceled due to the pandemic, and organizers made an early decision to postpone this year as well. Instead, Rhinelander Chamber Director Lauren Sacket says they've created "Constellation Prize" boxes which will include a variety of local foods and sustainable goods along with local art and art projects and original Midwestern music. Sacket says they want people to keep Project North on their calendars and in their minds. She added, "We are giving you a taste of what is to come in 2022 through these Constellation Prizes which support Project North and the arts. Arts, music, and sustainability are vital to our way of life and this event." Keeping with the Constellation theme, they are taking reservations for "Ursa Major" and "Ursa Minor" sized boxes along limited edition T-Shirts. You can learn more or reserve a box by visiting projectnorth.org.
+ Read More
Hatchets Sports Recap - Thursday
Published on 06/18/2021 under Sports TRACK AND FIELD: The Tomahawk Hatchets Boys and Girls Track and Field Teams competed in the WIAA Sectional Meet on Thursday. The Hatchets competed hard and will send two individuals and one relay team to the state meet next week. STATE QUALIFIERS: BOYS: Ethan Liebnitz - Pole VaultNoah Buckwalter - 800m run GIRLS: Morgan Hansmann, Kate Reilly, Rachael Reilly, Macey Mann - 4x800m relay Tune-in to Northwoods 92.5 on Friday afternoon (June 25th) for results from the State Track and Field Meet in La Crosse. LEGION BASEBALL: The Tomahawk Legion Post 93 Baseball Team opened their season against Rib Lake on Thursday night with a doubleheader. They played two 5-inning games. The Cubs lost 10-5 in the first game and 13-3 in the second game. The Legion Baseball Team will travel to Park Falls to play on Friday night.
+ Read More
Hatchets Sports Recap - Monday
Published on 06/15/2021 under Sports SOFTBALL: The season for the Tomahawk Hatchets Softball Team came to end with a heartbreaking 8-7 loss in 11 innings to the Westfield Pioneers in the WIAA Tournament on Monday. The Hatchets scored first with one run in the first inning, but Westfield took a 4-1 lead with 4 runs in the third inning. They added one more run to take a 5-1 lead to the bottom of the fifth inning. But the Hatchets stormed back with 4 runs in the bottom of the fifth inning to tie the game at 5. The game stayed tied and went to extra innings. Maddie Marino (Tomahawk) and Trista Drew (Westfield) both pitched the entire game for their teams and kept the opposition scoreless until the 11th inning. Westfield scored 3 runs in the top of the 11th inning, and the Hatchets had work to do in the bottom of the 11th. The Hatchets were able to score 2 runs, but Maddie Marino flew out to centerfield with Scout Stromberg on second base to end the game. The Hatchets lost 8-7 and Westfield moves on in the WIAA Tournament. TRACK AND FIELD: The Hatchets Girls and Boys Track and Field Teams competed in the WIAA Regional Meet in Medford on Monday. Many Hatchets qualified for the WIAA Sectional Meet on Thursday. See below. Girls Sectional Qualifiers: -2nd Rachael Reilly- 3200m run -3rd 4x800m relay- Morgan Hansmann, Kate Reilly, Rachael Reilly, Macey Mann -3rd 4x200m relay- Maddie McCormick, Autumn Peissig, Halle Derleth, Karlie Woodall -4th Ava Dragosh Pole Vault Boys Sectional Qualifiers:-1st Ethan Liebnitz Pole Vault -1st Noah Buckwalter 800m run -2nd Drew Bolder 1600m Run -2nd Drew Bolder 3200m run -2nd Alex Norman 800m run -4th Dakota Jelinek Long Jump
+ Read More
Hatchets Sports Recap - Thursday
Published on 06/11/2021 under Sports BASEBALL: The Tomahawk Hatchets Baseball Team lost to Antigo 16-2 in the first round of the WIAA Tournament on Thursday night. The Hatchets got out to a 2-0 lead with a two-run triple by Tyler Jablonski in the second inning, but Antigo came storming back. The Red Robins scored 5 runs in the second inning, 9 runs in the third inning, and 2 more runs in the 4th inning. Antigo will play Rhinelander on Tuesday in the second round of the WIAA Tournament. Tomahawk finishes the season with a 3-16 record.
+ Read More
5:00 until 10:00AM
Jeff in the Morning
Zach with the News | Hunter with Sports

10:00AM - 3:00PM
Phil on Monday
Hunter on Tuesday - Friday

Late Afternoons and Evenings
Michael

Morning Conversation 9:35AM Monday - Friday