Pro Prediction Contest Continues
The WJJQ Pro Prediction Contest continues during the 2018 season.
Nascar Challenge Continues
Nascar Challenge Contest Continues during the 2018 Season.

State Celebrates Role of Forest Industry in Economy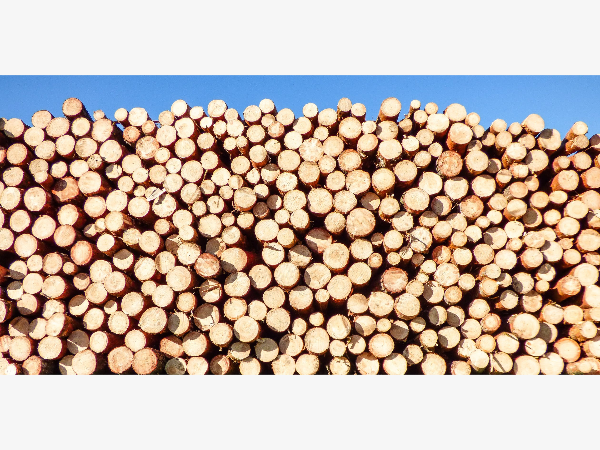 Published on 10/23/2018 under News From the days of lumberjacks to modern mills, the forest industry has served as a lifeblood for many Wisconsin communities. In recognition of those who work in and care for Wisconsin's 17.1 million acres of forests, this week has been designated as Wisconsin Forest Products Week. Collin Buntrock, a Forest Products Team Leader with the DNR says, "From paper products such as food packaging, fine writing paper and tissue paper, to lumber used for homes and furniture, the products made by the 1,200-plus forest products companies in Wisconsin help make our life better." Buntrock's team of forest products specialists helps Wisconsin's forest industry build and maintain strong markets while ensuring that forests remain a vital part of the state's economy and culture for future generations. He noted that forest products contribute $24.1 billion annual to the state's economy. More than 60,000 people work directly in the industry, which is a leading employer in 10 counties. That includes Lincoln County, where more than 1,100 people work in the industry. We'll have a bit more on those local numbers later this week.
+ Read More
mBank Donates $15,000 to Merrill Groups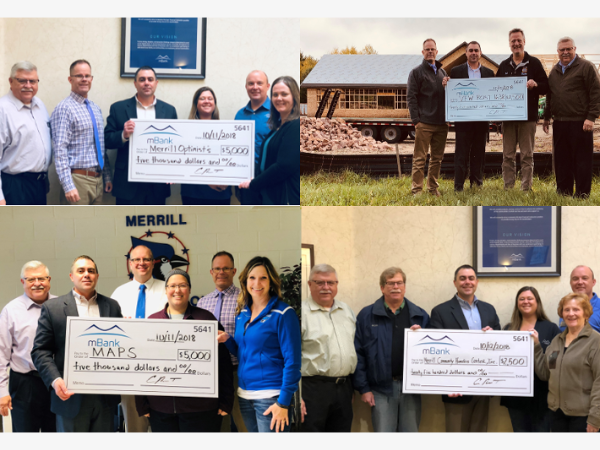 Published on 10/23/2018 under News A new financial institute in Merrill has made a series of generous donation in their new community. As we've previously covered, mBank, based out of the Manistique, Michigan, recently acquired Lincoln Community Bank locations in Merrill and Gleason. Yesterday, they announced a $15,000 donation to support several local non-profits in the greater Merrill area. The first donation, $5,000, went to the Optimist Club of Merrill. The funds will be used to help construct a handicapped-accessible playground at Normal Park.Donation number two, also $5,000, goes to the Merrill School District to purchase a trailer to transport band equipment.VFW Post 1638 received $2,500 to assist in the construction of their new Northwoods Veterans Post facility.And another $2,500 goes towards the Merrill Community Homeless Center and the Habitat Home project. Executive VP Clay Peterson says, "We're proud to support these local organizations that have such a profound, positive impact here in our community. By supporting these programs, we are living our core value of giving back to the communities we serve. We look forward to seeing the opportunities this will bring to so many families and businesses."
+ Read More
Defense Points Blame for Toddler's Death in Tran Trial
Published on 10/23/2018 under News RHINELANDER, Wis. (AP) — A defense attorney for a Wisconsin woman accused of killing her young stepson is attempting to pin blame for the child's death on the boy's father. Thirty-year-old Ellen Tran is on trial in Oneida County for first-degree reckless homicide. Twenty-month-old Avery Edwards died in April 2017 while he was in the care of Tran and her husband at the time, Trung Tran. WJFW-TV reports the toddler spent most of his time with his biological mother in Virginia, but occasionally stayed with his father and stepmother in Rhinelander. Defense attorney Jonas Bednarek attempted to show that Trung Tran was the person who likely caused his son's death. Trung Tran took the stand briefly Monday and refused to answer questions, citing his constitutional rights against self-incrimination. He's charged with two lesser felonies in his son's death.
+ Read More
ADRC Hosts Public Hearing Tuesday in Tomahawk on 3 Year Work Plan
Published on 10/23/2018 under News As part of an effort to gather feedback from the people they serve, the local Aging and Disability Resource Center is hosting a number of public hearings. The ADRC of Central Wisconsin serves 4 counties including Lincoln, Langlade, Marathon, and Wood Counties. In 2016, the ADRC made more than 1,000 contacts in Lincoln County which included serving more than 37,000 meals through their nutrition program. The staff are currently working on their triennial aging plan which will guide their services between 2019 and 2021. As part of the process, they are currently accepting public comments on the plan with a series of public hearings over the next week. That includes Tuesday, when they'll be stopped at the Tomahawk Senior Center at 11am. They'll be in Elcho Wednesday, and Wausau on Friday. You can also view the plan on their website and submit comments through October 31.
+ Read More
Hatchet Cross Country Team Sending Two to State
Published on 10/22/2018 under Sports On Saturday, Tomahawk competed in the WIAA Division 2 Sectional Cross-Country Meet at Irish Waters Golf Course in Freedom. The athletes were treated to some of the most challenging conditions for midlate October, as they raced for the chance to compete in the State Championships next weekend in Wisconsin Rapids. The Tomahawk Girls were keen to the task and led by junior Haley Voermans-Dean and freshman Macey Mann they handled the near white-out conditions and stiff northwest winds they were faced with in the varsity girls race. Haley raced to the top individual State-qualifying position 6th overall in a time of 20:46 and Macey grabbed the final State-qualifying position with her 13th place finish in a P.R. time of 21:13. Junior Meagan Berg (23rd-21:48), freshmen Kate Reilly (31st-22:09) and Emily Lacina (34th-22:37), senior Arianna Schreiner (37th-22:40), and junior Gillian Buckwalter (59th-23:52) rounded out the Sectional Hatchet contingent. The second ranked team in D2, Freedom (35 pts) and 4th-ranked Lakeland (46 pts) outdistanced the rest of the field with their state qualifying team performances. Mosinee (99 pts), then the lady Hatchets (107 pts), and Shawano (138 pts) rounded out the top five teams. 92 runners and 15 teams toed the line at the start of the girls D2 race. In the first race of the day, battling 30 mile an hour winds and sleet the Tomahawk boys matched their 4th place finish from a year ago. They placed three runners in the top 20, led by sophomores Drew Bolder (13th-17:35), Noah Buckwalter (14th-17:36) and senior Evan Ploeckelman (19th-17:42). The final Hatchets to finish their season at Sectionals were sophomore Garron Albrent (38th-18:16), senior Shawn Dirkx (44th-18:21), freshman Arden Ziert (56th-18:44) and sophomore Trey Baalke (60th-18:49). State ranked Freedom won the Sectional with 97 pts., followed by New London (107 pts.), Lakeland (126 pts.), Tomahawk (127 pts.), and Mosinee (128 pts.) who were all closely bunched in the hunt for the runnerup position and remaining spot for Rapids. 15-teams and 100 runners competed in the D2 Boys Sectional. The Great Northern Conference will be well-represented in Wisconsin Rapids, as along with the Hatchet duo of Voermans-Dean and Mann, girls teams from Lakeland and Medford (out of the Colby Sectional), and individuals from Mosinee (boys & girls), and Rhinelander (boys) qualified. The boys and girls both finished their season with improved overall records in comparison to last year. The boys varsity at W-114 L-14 (Pct .891) record and the girls concluded with a W-108 L-10 (Pct .915) mark.
+ Read More
Hatchet Volleyball Team's Season Comes to an End
Published on 10/19/2018 under Sports The Tomahawk Hatchet Volleyball Team had their season come to an end on Thursday night, in a three games to one loss at Mosinee in WIAA Regional Semi-Final action. Tomahawk won game one 25-20, with Mosinee winning games two, three and four, 25-23, 25-17 and 25-20. Mady Hanse led Tomahawk with 15 kills and Natalie Zastrow had 14. Tomahawk ends the season with a 21-18 record.
+ Read More
Hatchet Volleyball Team is at Mosinee for WIAA Regional Semis
Published on 10/18/2018 under Sports The Tomahawk Hatchet Volleyball Team plays at Mosinee on Thursday night in WIAA Regional Semi-Final action. The Hatchets advances with a three games to one win over Medford, while Mosinee defeated Lakeland in a three game sweep. The opening game is at 7:00 pm at Mosinee High School, with the Fehrman Orthodontics Coaches Show at 6:40 pm on Northwoods 92-5, WJJQ.
+ Read More
Jeff in the Morning and Zach with the News
5:00 until 10:00AM

Phil at Mid-Days on Monday & Tuesday
Tim at Mid-days on Wednesday - Friday

Michael Late Afternoons and Evenings

Morning Forum 9:35AM Monday - Friday