Tomahawk Hosts Dumpster Day on Saturday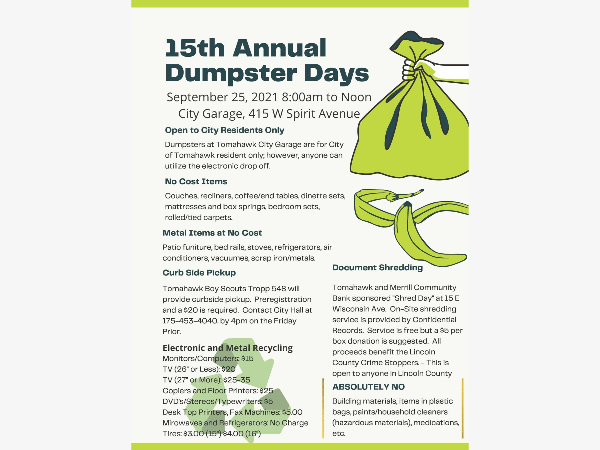 Published on 09/24/2021 under News It's time once again for Tomahawk residents to do some fall cleaning. The city's annual Dumpster Days event returns this weekend with a variety of services including household item disposal, electronics recycling and document shredding. Over the years, the event has been a way to make the community a more inviting place to live while providing convenience for disposal. Originally established by the Make-a-Difference group 15 years ago, the city of Tomahawk has taken over the planning to continue offering the well-received service. This year's Dumpster Day is several week's later than normal, as the city looked to avoid conflicting with this year's 9-11 Remembrance and Fall Ride each of the past two Saturdays. Tomorrow's event will be similar to past years. Services include: For City Residents Only:Larger household items: This is for items that may be too large for regular garbage pick up. Examples including, couches, rolled carpets, tables, and mattresses. Drop off at the City Garage Saturday from 8am to Noon. Pick up: City residents can schedule a pickup appointment with the Boy Scouts for $20. Appointments can be arranged by calling city hall (453-4040) by 4pm Friday. Open to All: Electronics Recycling: Electronics can be dropped off including televisions, computer monitors, printers and microwaves. This service does come with a small fee ranging from $5 to $35. The drop off will also take place at the city garage from 8am to noon. Document Shredding: In conjunction with Dumpster Days, Tomahawk Community Bank will bring back their document shredding. They are partnering with Lincoln County Crimestoppers and encourage a donation to the organization. That'll be in the TCB parking lot from 8am to noon.
+ Read More
New Northern Youth Crisis Facility Opens in Wausau
Published on 09/24/2021 under News A unique residential youth crisis facility is now open in Wausau, and it will serve youth in Northern Wisconsin. The eight-bed facility, operated by North Central Health Care, will provide support services for young people with non-life-threatening mental health needs. Launched with start-up funding with the Wisconsin Department of Health Services, the facility is just the second in the state, the other down in Milwaukee. These facilities provide are aimed at youth in earlier stages of mental health struggle before more intensive, costly, and restricting interventions. While youth can stay for up to a month, officials said a typical stay is just a few days. The North Central Health Care facility will serve youth ages 17 and under who live in Forest, Langlade, Lincoln, Marathon, Oneida, and Vilas counties. Gov. Evers commented on the opening saying, "This facility will help meet a critical need in caring for youth in this region of our state, and I'm proud to be investing in what's best for our kids—especially after the unprecedented challenges they've endured over the last 18 months." The Milwaukee facility opened last October and has served 77 youth during that time.
+ Read More
Oneida County Health Partnering with National Guard for Covid Testing
Published on 09/24/2021 under News When Covid cases spiked at the beginning of the pandemic, the Wisconsin National Guard played a key role in providing testing throughout the state. With the cases totals trending upwards again, the Guard will be resuming efforts here in the Northwoods. The Oneida County Health Department announced a collaboration with the Guard each of the next two Saturdays to provide free drive-thru covid testing. The two testing events come as cases climb in Oneida County. Over the past seven days, the Health Department reports 141 new Covid cases In addition to testing, they encourage people to get vaccinated, were a face covering, and keep social distancing when necessary. As for the testing, it'll be tomorrow (Saturday, September 25) and again next Saturday (October 2) at the River Street Hazmat building parking lot. Pre-registration is not required, but appreciated. It can be done online and we'll include a link.
+ Read More
Chequamegon Nicolet National Forest Celebrates National Public Lands Day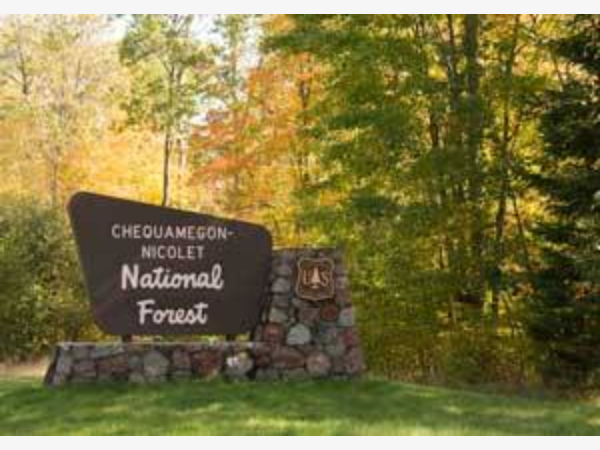 Published on 09/24/2021 under News With 1.5 million acres spanning 11 counties in the Chequamegon-Nicolet National Forest, there are no shortage of public lands here in the Northwoods. Coming up Saturday, officials are encouraging people to get outside, enjoy an early fall day, and potentially give back. Established in 1994, National Public Lands Day celebrates the connection between people and the environment while encouraging the use of public spaces for education, recreation and volunteering. On Saturday, the US Forest Service will be waiving the $5 fees at day-use recreation sites which applies to beaches, boat launches, picnic areas and trailheads. Forest Supervisor Paul Strong. "Whether folks come out to volunteer or just to spend a day in nature, we encourage everyone to visit the national forest on Saturday." As for giving back, local ranger district offices can provide information about group service opportunities or ideas for volunteering on the national forest.
+ Read More
Hatchets Sports Recap - Friday
Published on 09/25/2021 under Sports FOOTBALL The Tomahawk Hatchets Varsity Football team earned their second victory of the season on Friday, with a 41-14 win over Menominee Indian. Mason Evans started the scoring for the Hatchets with a 24-yard touchdown run in the first quarter. Evans finished with 14 carries for 131 yards and three touchdowns. The Hatchets added two more touchdowns before halftime, and took a 20-0 lead into the break. Menominee Indian stormed back in the third quarter, took advantage of a Hatchets turnover, and found themselves down 20-14 heading to the fourth quarter. But in the fourth quarter, the Hatchets took control by scoring three touchdowns. Mason Evans, Tyler Jablonski, and Logan Bishop all scored on rushing attempts. Add the Hatchets first successful two-point conversion of the season, and Tomahawk took the game by a final score of 41-14. The Hatchets are now 2-4 overall and 2-2 in the Northwoods Conference. They will host Northern Elite on Friday at 7pm at Hatchet Field.
+ Read More
Hatchets Sports Recap - Thursday
Published on 09/24/2021 under Sports VOLLEYBALL The Tomahawk Varsity Volleyball team hosted a quad on Thursday night and the Hatchets played really well all night long. The Hatchets first swept Newman 25-11 and 25-16. Mackenzie Scholz, Emerson Lange, Claire Albert and Alyssa Zehner each contributed an ace to the match. Meghan Scholz led the team with 6 blocks and 8 kills, followed by Alyssa Zehner and Claire Albert each with 6. Claire Albert led the team with 8 digs. Mackenzie Scholz finished the match with 18 assists. Next they swept Prentice 25-23 and 25-14. Claire Albert and Alyssa Zehner each led the team with 2 aces. Alyssa Zehner led the team with 10 kills and 12 digs. Meghan Scholz led the team with 2 blocks. Mackenzie Scholz finished the match with 20 assists. In the final match, they swept GNC rival Lakeland 25-20 and 25-17. Emerson Lange, Samantha Gebauer and Alyssa Zehner each contributed an ace to the match. Meghan Scholz led the team in blocks with 2 and led in kills with 12, followed by Alyssa Zehner with 7. Samantha Gebauer led the team with 10 digs and Mackenzie Scholz finished the match with 23 assists. The Hatchets finished the night 3-0 in matches and 6-0 in games. CROSS COUNTRY Tomahawk traveled to Big Stone Golf Course on Thursday for the annual Three Lakes Blue Jay Invitational. With solid "pack-style" running the Hatchets were dominant bringing home two team trophies in the ten team event. In the first high school race of the day, a group consisting of Arden Ziert, Owen Dickrell, Brett Borchardt, Presley Gutbrod, and Sam Zastrow worked as a "pack" coming thru both the first and second mile, separated by no more than two seconds. They gave Rhinelander a solid run for the title, placing all five scorers in front of the Hodags #4runner, however it was not enough to offset the Hodags low total of 35 pts. Owen (7th-18:53), Brett Borchardt (8th-19:00), Arden (9th-19:01), and Presley (10th-19:02) were all medalists and freshman Sam Zastrow placed 13th in 19:10. That scoring split of 17 seconds was their best effort to date. Top 3 Boys team scores - Rhinelander 35, Tomahawk 47, Marathon 56 The varsity girls followed and gave the Hatchets their first outright championship of the day with a season low 23 pts in route to the title. Like their counterparts, the girls placed four in the top ten earning medalist honors, led by sophomore Rachael Reilly's first individual 5K championship of 2021 as she covered the course in a seasonal best time of 20:59, surging past a Three Lakes runner in the last 1000 meters to claim the crown. The other Hatchet medalists were seniors: Macey Mann (4th-21:35), Emily Lacina (5th-21:36) and Geena Wanta (9th-22:16 PR). Top 3 Girls team scores - Tomahawk 23, Marathon 53, Rhinelander 66 MIDDLE SCHOOL CROSS COUNTRY On Thursday afternoon, the MS Cross Country team traveled to Three Lakes for the Three Lakes Invitational. Overall the boys finished 5th and the girls finished 2nd. Individually, Jeremiah Johnson led the boys with a 6th place finish, followed by Masen Towle in 21st, Ryan Montag 25th, Joe Zastrow 27th, Dane DeKiep 29th, Teddy Frederickson 30th, Gerard Gorell 35th, and Eli Albrent in 37th. The girls were led by Elise Gibeault in 5th place, Joa Reilly in 9th, Anita Ziert in 13th, Faith Derleth in 14th, Elli Micke in 18th, Abi Micke in 19th, Lydia Shaney in 20th, Norah Mann in 30th, Summer Gaedtke in 34th, Kinsley Lange 37th, Sophia Lacina 39th, Freya Alberg 43rd, Jennie Frederickson 53rd.
+ Read More
Hatchets Sports Recap - Tuesday
Published on 09/22/2021 under Sports VOLLEYBALL The Tomahawk Varsity Volleyball team came back to beat Northland Pines 3-2 on Tuesday night. The Hatchets won the first game 25-18, then lost the next two games 26-24 and 25-21. But the Hatchets came back to win the fourth and fifth games (25-15 and 17-15 respectively) to win the match. The Hatchets will host a quad on Thursday against Lakeland, Newman, and Prentice. Opening round is at 5:00pm in the FIeldhouse.
+ Read More
5:00 until 10:00AM
Jeff in the Morning
Zach with the News | Hunter with Sports

10:00AM - 3:00PM
Phil on Monday
Hunter on Tuesday - Friday

Late Afternoons and Evenings
Michael

Morning Conversation 9:35AM Monday - Friday