Northwoods 92-5 will feature Hatchet Boys Basketball against Northland Pines tonight, with the Fehrman Orthodontics Pregame Show at 6:50 pm.

Let's Minocqua Increasing Grants from Room Tax
Published on 01/15/2021 under News Amid the pandemic, the Minocqua area saw a boost in room tax revenue, resulting in additional grants being made available this year. The Let's Minocqua Visitors Bureau and Chamber of Commerce announced that $20,000 is being made available to community groups and organizations for tourism development and promotion in the Minocqua area. That's an increase from previous cycles. Chamber Executive Director Krystal Westfahl says, "We have been heavily marketing the communities of Minocqua, Arbor Vitae, and Woodruff as year-round outdoor recreation areas for the past five years. We saw increased traffic to the area as people flocked to the Northwoods to social distance and get back to family and nature." A portion of the room tax generated in Minocqua, Arbor Vitae and Woodruff is reinvested through the room tax grant program for groups focused on bringing people to the area or those offering events and activities that will encourage people to stay longer. Board president, Jim Hartwig, "We are very pleased to have the opportunity to support tourism in diverse ways and we look forward to assisting our nonprofits from across the area in this common goal." The application period runs through the end of the month.
+ Read More
Snowmobile Racers Return to Eagle River for Derby World Championships
Published on 01/15/2021 under News Some of the fastest snowmobiles in the world are converging in the Northwoods this weekend for the World Championship Snowmobile Derby. This is the 58th year for the event held each January in Eagle River. In a typical year, tens of thousands of sledheads travel to the Northwoods bringing a much needed boost to the local economy and plenty of speed on the ice oval. With the pandemic still affecting events across the country, organizers have taken some additional precautions to protect fans and racers alike. They got a trial run last weekend with the vintage derby. Opening ceremonies are set to begin this evening with weekend racing leading up to Sunday's World Championship race. Blaine Stephenson will seek to win his third consecutive title in the 25 lap shootout. Many local fans will have to find a new racer to pull for, as Tomahawk-native and two-time world champion Nick Van Strydonk retired following last season. The World Championship will be followed by the inaugural 100 lap enduro race.
+ Read More
DNR Offers Free Fishing Weekend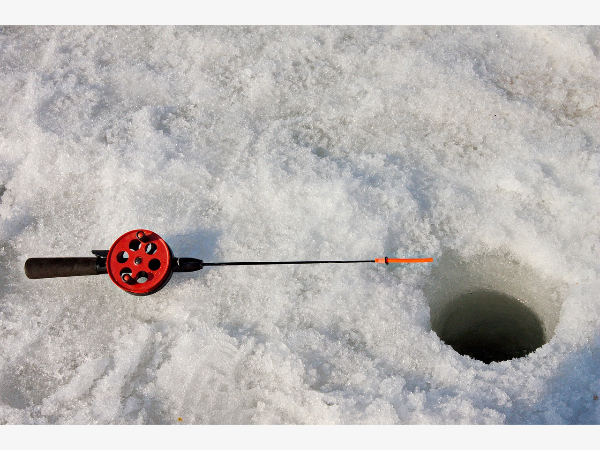 Published on 01/15/2021 under News Whether tip-ups, jigging, or casting a line; Wisconsin anglers can hit the ice for some fishing this weekend without a license. The DNR has brought back their winter free fishing weekend. These free activity weekends are a way to introduce new participants to Wisconsin's many outdoor sports, while also providing former participants to renew their interest. It's part of the DNR R3 program which stands for recruitment, retention and reactivation. In a typical year, the DNR would offer organized events such as clinics or equipment loans. With Covid-19 still spreading, they are calling it "a do-it-yourself adventure." R3 Coordinator Theresa Stabo says, "Although this is not a time to share your shanty with people from outside your household, you and a family member or roommate can still venture out for a brisk walk and drop a line (this) weekend." While you don't need a license, anglers must still follow all other fishing regulations including size and bag limits. As always when venturing onto the ice, consider its safety and remember that no ice is 100% safe. Mild temperatures throughout the winter have led to variable ice conditions across much of the state.
+ Read More
City of Merrill Extends Limited Access to City Facilities
Published on 01/15/2021 under News The City of Merrill will extend the limited access to city buildings through the end of the month. The temporary restrictions were put in place due the increase in Covid-19 cases in Lincoln County over the past two months. The biggest effect on the public is at City Hall where they are encouraging business via phone or email. They are also available by appointment. The temporary closure was initially set to expire this weekend. In announcing the extension, Mayor Derek Woellner cited Lincoln County's current Covid activity level in the "Very High" category along, with the "no significant change" in the trajectory based on state statistics. The new declaration has been extended to February 1.
+ Read More
Hatchet Hockey Teams Loses to Mosinee
Published on 01/15/2021 under Sports On Thursday night, the Hatchet Hockey Team hosted Mosinee in Great Northern Conference action, and the Indians defeated Tomahawk 6-1. Mosinee led 5-0 after the first period and 6-0 after the second period. Tomahawk's lone goal came in the third period, with Mitch Jimenez scoring on assists from Patrick Samundsen and John Mark Hawley. Andrew Samundsen had 36 saves for the Hatchets. Tomahawk will travel to Antigo on Saturday, with the opening faceoff at 2:00 pm.
+ Read More
Hatchet Boys Swimming Team Defeats Shawano
Published on 01/15/2021 under Sports The Tomahawk Hatchet Boys Swimming Team was on the road Thursday night at Shawano, and Tomahawk wins the GNC Dual 82-75. Thursday night the Hatchets turned in some of the great mid-season times that have eluded some of the guys up until now. This bodes well for their showing next week and into Conference and Sectionals in the next 2 weeks. Tomahawk went 1-2 in 3 of the 9 individual events, including: 200 yard freestyle showed Junior Caleb Kretzschmar in 1st at a personal record 2:12.04, and Senior Alex Norman not far behind at 2:16.18. In the 100 yard freestyle, Seniors Ethan Liebnitz and again, Alex Norman went 1-2 with a pair of '57's - personal records for them both as well, and in the 100 yard Breaststroke, Sophomore Zach Hanse dropped down to a season best 1:04.78, only a bit off of his 1:03.21 school record in the event, and Senior Adam Hall was 2nd with a solid swim at 1:13.21 An additional four more first place finishes were turned in by our: 200 yard Medley Relay team of Hanse, Hall, Kretzschmar and Liebnitz Zach Hanse in the 100 yard Butterfly at a personal record :59.99 time. Caleb Kretzschmar in the 500 yard freestyle with a season best 6:02.19, and the 400 yard Freestyle Relay team of Norman, Kretzschmar, Hall and Hanse with a season best 3:55.31 - 4 full seconds faster than their previous season best time of 3:59.69 Next Competitions: Tuesday, Jan. 19th - home vs. Lakeland - final dual meet/home meet of the season and also Seniors night and Parents night Friday, Jan. 22nd - GNC Conference Championship Meet at Shawano Saturday, Jan 30th - WIAA Sectional Meet at Rhinelander
+ Read More
Hatchet Wrestlers Defeat Antigo
Published on 01/14/2021 under Sports On Thursday night, the Tomahawk Hatchet Wrestling Team hosted a GNC Quad at the Fieldhouse and in their opening match Tomahawk defeated Antigo 43-33. Action began at 285 and Tomahawk's Eric Decker won via pin at 1:22 in the first period. Tomahawk then got a pin from Presley Gutbrod at 106 pounds with seven seconds left in first period. Tomahawk led 12-0. Antigo cut the lead to 12-9 with consecutive wins, and then Tomahawk got a forfeit win to gain an 18-9 lead. Antigo won matches at 132 and 138 to gain a 21-18 lead, with Tomahawk then getting a forfeit win for Michah Arnott at 145, regaining the lead at 24-21. Antigo won via pin at 152 and regained the lead 27-24. Logan Bishop hit the mat at 160 and won 9-5 to tie the score at 27-27. Antigo won by pin at 170 and led 33-27. Tomahawk then got a 10-1 win by Isiah Scheffler at 182 and Antigo maintained the lead at 33-31. The Hatchets would then get forfeit wins for Marcus Matti at 195 and Kade Wenninger at 220 and get they GNC Dual Meet win, 43-33. With the win, Tomahawk improves to 3-1 in the conference. Tomahawk also defeated Medford in their second dual of the night.
+ Read More
Jeff in the Morning and Zach with the News
5:00 until 10:00AM

Phil at Mid-Days on Monday & Tuesday
Tim at Mid-Days on Wednesday - Friday

Michael Late Afternoons and Evenings

Morning Conversation 9:35AM Monday - Friday