Aspirus Langlade Hospital Using Hydroponic Garden, Solar Panels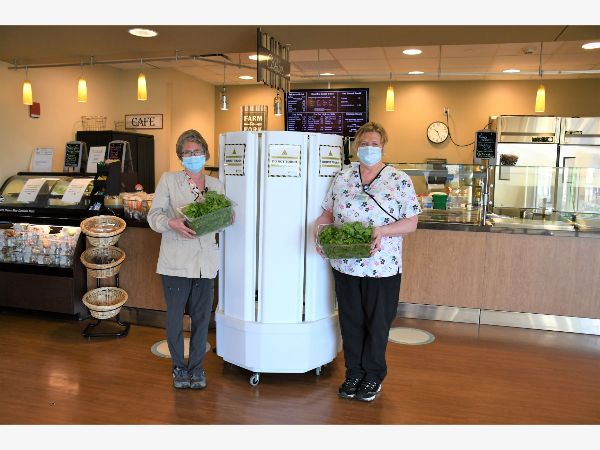 Published on 04/13/2021 under News Aspirus Langlade Hospital in Antigo is continuing their sustainability mission with their latest efforts including hydroponic produce grown on site and new solar panels on the campus. The facility recently announced that they have completed the first harvest of their organic, hydroponic system which produced 18 pounds of lettuce. Director of Nutrition & Food Services Penny Matuszewski said, "It is an interesting process to see the produce grow... We are so pleased to have another sustainable, healthy product to offer in our café." The Fork Farms unit can yield 360 pounds of produce annually, with a variety of fruits and vegetables that can be grown in as few as 23 days. Betsy Kommers, Director of Marketing & Fund Development said, "This is such an exciting project and speaks to how we are transforming the ways that Aspirus Langlade Hospital and the Community Health Foundation partner to address some of the top health priorities in our community." The facility also recently installed solar panels to help power two of their buildings on the campus. Other efforts include expanded recycling, employee herb gardens and transitioning their vehicle fleet to alternative fuel or electric vehicles. According to a news release, goals for the 10 Aspirus system hospitals include reducing carbon emissions by 80% and reducing energy costs by 50%, both by 2030. Photo provided by Aspirus
+ Read More
Severe Weather Awareness Week: Watches vs. Warnings
Published on 04/13/2021 under News All week long we're taking part in Tornado and Severe Weather Awareness Week. Throughout the year, meteorologists work with the media to keep the public informed of developing weather conditions. We often hear of watches and warnings, but what do they mean? According to the National Weather Service, a watch generally comes first. It means that conditions are right for that particular alert. Watches are issued by storm prediction centers and generally cover large areas. When a watch is issued, you should prepare for the possibility of severe weather. When a warning has been issued, the National Weather Service says that particular weather event has been sighted or indicated by weather radar. Warnings are issued by local forecast office using information from radar and trained storm spotters. Warnings typically encompass a much smaller area. An advisory will be issued for less severe occurrences like frost. There are two mock tornado drills coming up on Thursday that will include both watches and warnings. We at WJJQ will be taking part in those drills.
+ Read More
NWS Offering Storm Spotter Courses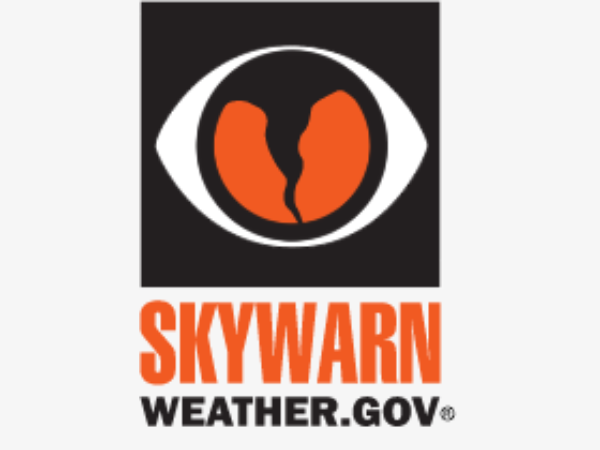 Published on 04/13/2021 under News For those interested in learning more weather and becoming part of the process, the National Weather Service is offering a number of opportunities to become a storm spotter. Storm spotters are volunteers who help their community and the National Weather Service by keeping an "eye on the sky" during severe weather. Spotters communicate with National Weather Service staff with the latest weather information from their location when severe weather strikes. Due to the pandemic, each of the classes will be held virtually this spring with standard and advanced classes available. Each takes about 60 minutes to complete and allows the opportunity to learn and interact with NWS meteorologists. Officials say you only need to attend one session to become a certified storm spotter. There are a number of courses available over the next two weeks. We'll include a link for those interested in signing up.
+ Read More
Wisconsin Conservation Congress Survey Period Open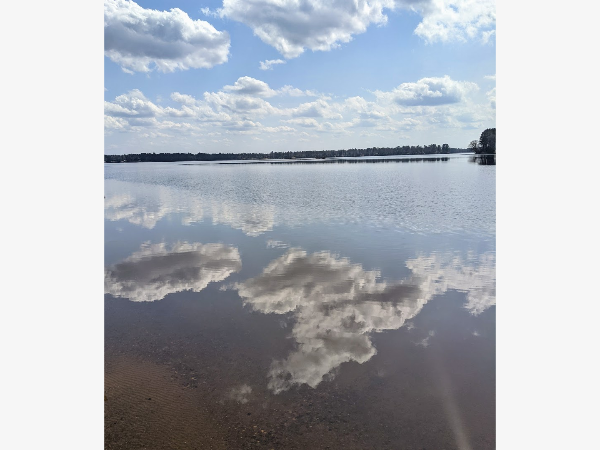 Published on 04/13/2021 under News Outdoor enthusiasts have another opportunity to take part in the rules-making process on a variety of topics. The Wisconsin Conservation Congress and the Department of Natural Resources launched their annual Spring Hearings Monday evening. Like last year, the survey will be conducted entirely online. Over the next three days, the public will have a chance to weigh in on more than 50 rules proposals and advisory questions on a wide range of topics. Nearly half the questions regard fishery rules, many lake specific bag limits and slotting rules. A handful of them regard lakes here in the Northwoods. Other topics covered in the survey include, but are not limited to: high capacity wells, shoreland protection,ATV Safety requirements, harvesting albino and piebald deer, and the length of various hunting and trapping seasons. We recently heard from local delegate Laurie Groskopf. She noted that Lincoln County had strong citizen participation last year and they hope that is the case again this time around. According to 2020 data, more than 500 residents participated. The survey went live at 7pm Monday evening and will remain open until 7pm Thursday. It's available on the DNR website.
+ Read More
Tomahawk PeeWee A Hockey Team Wins WAHA Championship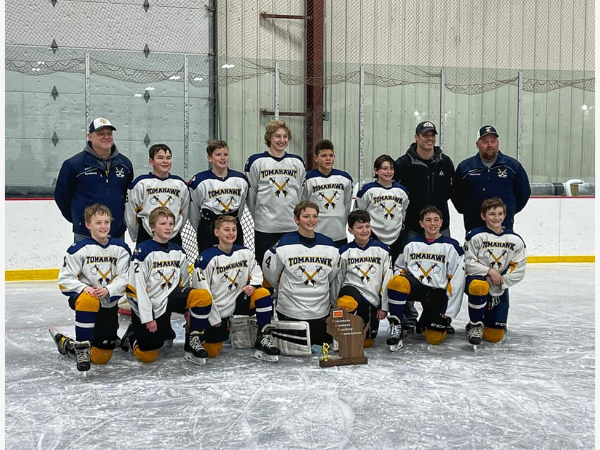 Published on 03/15/2021 under Sports The Tomahawk PeeWee A Youth Hockey Team competed in the 12U 4A WAHA State Championships over the weekend at Price Ice Recreation Arena in Park Falls. Tomahawk wins the championship with a dominating effort. Tomahawk defeated the Milwaukee Blaze 13-0 on Friday night. The Hatchets then beat Marinette 13-3 on Saturday in the semi-finals to advance to the title game. On Sunday, Tomahawk defeated Altoona 8-2 to claim the championship.
+ Read More
Tomahawk PeeWee B Hockey Team Wins WAHA Championship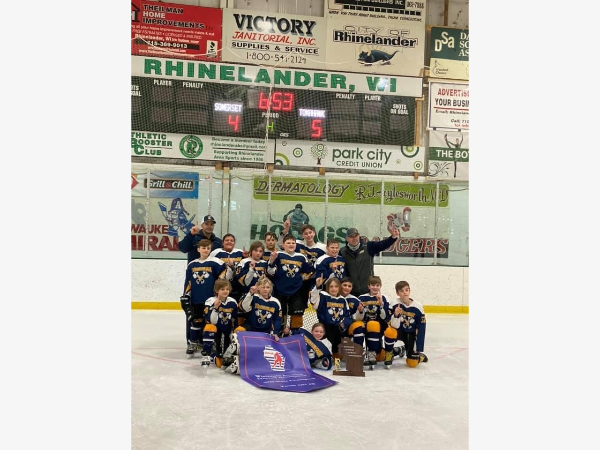 Published on 03/15/2021 under Sports The Tomahawk PeeWee B Youth Hockey Team competed in the 12U 3B State Championships at Rhinelander Ice Arena, and Tomahawk claims the championship with an overtime victory on Sunday. Tomahawk defeated Somerset in double overtime 5-4. Tomahawk advanced to the title game with wins on Saturday, 6-2 over Oshkosh and 11-1 over Merrill.
+ Read More
Tomahawk Bantams Win WAHA Championship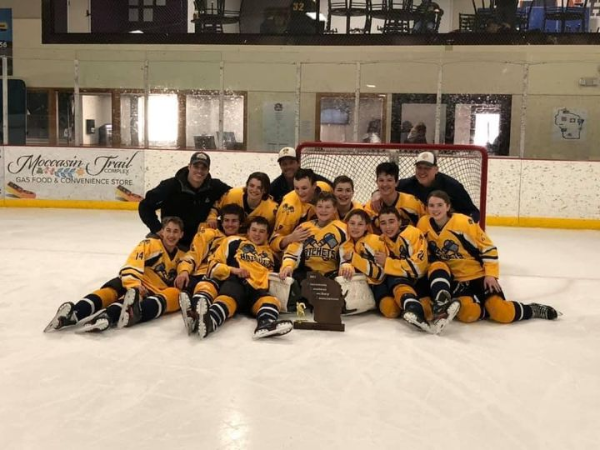 Published on 03/08/2021 under Sports On Sunday, the Tomahawk Bantam Youth Hockey Team won the 14U 4A WAHA Bantam Championship at Ashland's Bay Area Civic Center. In the championship game on Sunday, Tomahawk defeated Sparta 7-1 to claim the groups' third straight championship (the 2020 WAHA Championships were cancelled due to Covid-19). Tomahawk advanced to the championship game with wins over Marinette 18-1 and Ashland 9-3.
+ Read More
5:00 until 10:00AM
Jeff in the Morning
Zach with the News | Hunter with Sports

10:00AM - 3:00PM
Phil on Monday
Hunter on Tuesday - Friday

Late Afternoons and Evenings
Michael

Morning Conversation 9:35AM Monday - Friday