THS Seniors Set to Receive Diplomas; Friday Graduation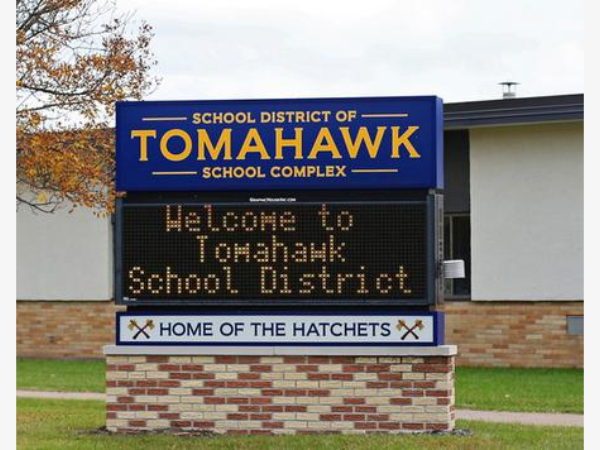 Published on 05/26/2023 under News Another group of Tomahawk High School students will reach a milestone as they officially graduate this evening. For the class of 2023, the district lists 86 seniors expected to cross the stage to receive their diplomas. It's been a busy few weeks for Tomahawk Senior with a class trip, senior awards night, and their community service day. It's all led up to their final school day and tonight's graduation. The students selected "Don't Stop Me Now" by Queen as their class song, and their class motto is a quote from Winston Churchill "Success is not final, and failure is not fatal; it is the courage to continue that counts." Four students will share the valedictorian honors. The recipients: Drew Albert, Kyle Norman, Gavyn Palmer, and Joanna Phillips are all expected to address their fellow graduates during the ceremony. Rounding out the Top 10, those students graduating with honors include: Serena Lee Reinke, Zachary David Hanse, Brynnen Elisabeth Stefan, Joseph Walter Jones, Kiona Mae Smedbron, and Catalina Rayne Dieter . While this year won't feature a live, online stream of the ceremony as they have in years past, they do plan on posting a video of the commencement on the district's YouTube Channel following the ceremony.
+ Read More
THS Class of 2023 Prepare for Graduation with 'Celebration Walk'; Scholarship Ceremony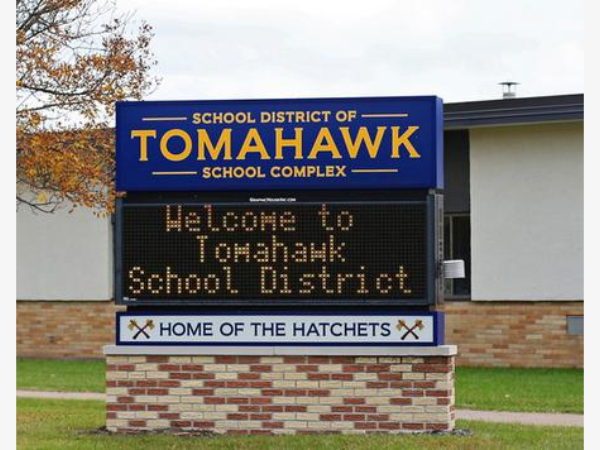 Published on 05/26/2023 under News THS Seniors Take Graduate Celebration Walk thru Campus Before the Tomahawk High School Class of 2023 receive their diploma's this evening, they'll get to take a literal walk down memory lane. As part of the graduation celebration, the Tomahawk School District is introducing a Graduate Celebration Walk. For most THS students, they spend their educational years on one campus, under one shared roof, K-12. This morning those soon-to-be graduates, in cap and gown, will take part in a mini-parade through the entire school to be greeted by staff and students in the elementary and middle schools. Principal Ryan Huseby explained earlier this month that it's a way to promote the camaraderie and progress these students have made throughout their education. He added that this will allow the seniors an opportunity to be celebrated by their fellow students at all grade levels and reconnect with staff members that have contributed to their education. THS Students Receive $150,000 in Local Scholarships A bit earlier this week, the THS Class of 23 received one last give from the community ahead of graduation. The district held their annual scholarship night Wednesday. Thirty nine students were selected to receive scholarships to help them further their education. The students shared in more than $150,000 through local scholarships alone. They come from clubs, organizations, businesses, and families. Nearly all of the scholarships awarded this week were from the Tomahawk area and do not include some of the scholarships from colleges, universities and tech schools that the students will be attending.
+ Read More
Main Street Memories Car Show Returns to Tomahawk Sunday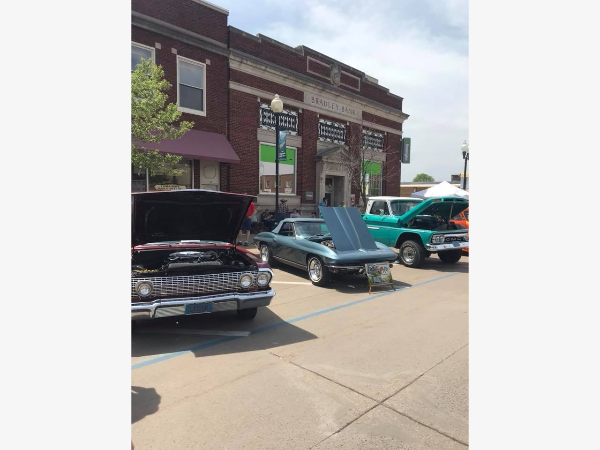 Published on 05/26/2023 under News Here in Tomahawk, Memorial Day weekend brings the return of the Main Street Memories Car Show. Over the years, the event has undergone some changes, but one thing keeps bringing people back, a love for classic vehicles. Now more than 25 years later, the Main Street Memories is still a showcase event in downtown Tomahawk each spring. In the beginning the show featured just a handful of vehicles from local collectors and clubs. In the year's since, the show has grown to regularly feature around 250 to 300 entries. There is usually a mix between vintage classics and souped up modern vehicles. Coming up Sunday those cars will line Main Street. The entrants take great care of their vehicles and participation will increase in nice weather. Main Street Director Jennifer Turkiewicz notes that the weather is supposed to cooperate on Sunday. We spoke with her to preview this year's event, the entrants, and their passion for their vehicles. Turkiewicz joked that the car show is definitely a 'look, but don't touch, type event. But the owners have plenty of stories they're excited to share about their vehicles. In addition to the classics, there are also some unique custom vehicles. Turkiewicz highlighted a Jurassic Park-themed entry that drew some of the longest lines and the most interest. And if cars aren't your thing, Turkiewicz says there are plenty of other family-friendly activities downtown with a children's area, as well as craft and food vendors. The Main Street Memories Car Show runs through 3pm Sunday when awards will be handed out.
+ Read More
Aspirus Recognizes Northwoods EMS Past and Present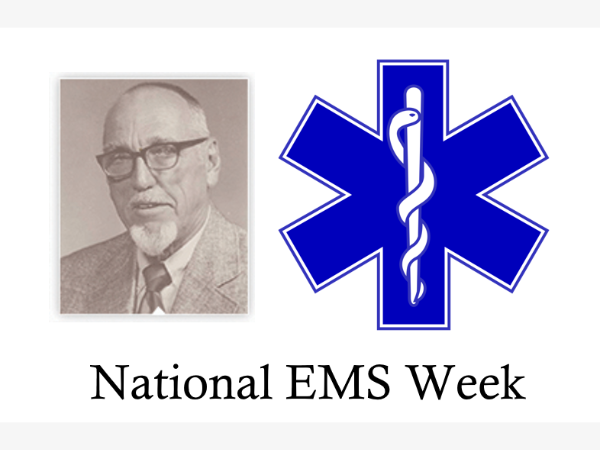 Published on 05/26/2023 under News This week has been set aside to recognize those in the emergency medical services field. In addition to recognizing their current providers, Aspirus is also looking back at those who have influenced EMS over the years right here in Northern Wisconsin. In a news release, Aspirus notes that the state of Wisconsin, and the Northwoods in particular, has a proud history in the evolution of EMS. They specifically highlighted Dr. JD "Deke" Farrington, a former physician at Lakeland Memorial Hospital and Howard Young Medical Center. He has been referred to as "The Father of Modern EMS" due to the integral role he played in the development of emergency medical services dating back to the 1950's. Among his many accomplishments, Dr. Farrington coordinated the first nationally recognized EMT course. It was held in Wausau in 1969. He is also credited with inventing the spine board and promoted the use of extrication and part of board that established industry standards. He even took part of the development of the 'Star of Life' as auniversally-recognized EMS symbol. Dr. Michael Clark currently serves as an emergency medicine physician and EMS medical director at Asprius. He says, "The Northwoods is proud to have such a rich history in the development of these techniques and trainings that continue to save countless lives today." He added that, "Dr. Farrington understood the importance of emergency medical care and had the foresight to see how he could improve it." Today Aspirus MedEvac has a team of more than 250, operating two air units and 35 ground ambulances at 13 base locations in northern Wisconsin and Michigan's UP.
+ Read More
Task Force Targets Northwoods Fugitives; 14 Arrested
Published on 05/26/2023 under News Earlier this month, the U.S. Marshals Task Force arrested more than a dozen fugitives in Northern Wisconsin as part of a cooperative effort referred to as "Operation Capture Hodag." The effort was led by the Great Lakes Regional Fugitive Task Force and included local law enforcement, the Wisconsin Department of Corrections and the Division of Criminal Investigation. During the first week of may, the team apprehended 14 fugitives in Vilas, Oneida and Marathon Counties. Those taken into custody were wanted on a variety of warrants including sex offender and probation violations, drug offenses, and obstructing. According to the announcement, the operation closed 26 felony warrant cases throughout three counties. They said that all of the arrests were made without incident.
+ Read More
Hatchet Softball Team Loses in Regional
Published on 05/24/2023 under Sports The Hatchet softball squad fought valiantly in their WIAA Division 3 Regional Semifinal Battle, but lost to Weyauwega-Fremont 8-7 Tuesday afternoon. Both teams exchanged runs throughout the course of the game until the end. Scout Stromberg was the star of the night at the plate, going four for four with two singles, a double, a triple, two runs scored, and five RBIs. Sam Gebauer provided the other two RBIs on a double in the first inning. The Hatchets came back from down two runs twice, including tying the game at seven heading into the bottom of the final inning. Unfortunately, Weyauwega-Fremont's Jadyn McCoy hit a walk-off solo home run off of Kayleigh Haring to help the Warhawks advance to the regional final at Amherst Thursday. Tomahawk finishes the season with a 7-12 overall record and a 4-8 record in Great Northern Conference play.
+ Read More
Hatchet Golf Team Finishes Fifth at Regional Meet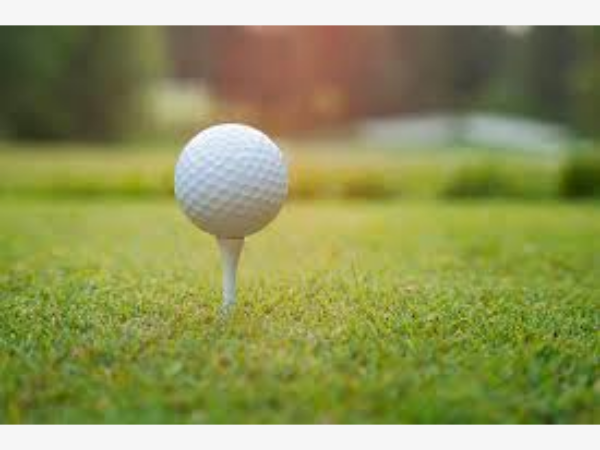 Published on 05/24/2023 under Sports The Hatchet golf squad came up just short in advancing the sectional meet as a team, placing fifth in the WIAA Division 2 Regional Meet at Turtleback Golf Course in Rice Lake Tuesday. Tomahawk had a team score of 356, just three strokes behind fourth-place Northland Pines. The Hatchets did have one individual that advanced, who was sophomore Sawyer Hanna. Sawyer posted an 18-hole score of 85. Hanna will compete in the WIAA Division 2 Sectional Meet at Lake Wissota Golf Course, hosted by McDonnell Catholic next Tuesday.
+ Read More
Hatchet Track & Field Teams Compete in Regional Meet
Published on 05/23/2023 under Sports The Hatchet Track and Field squads competed in the WIAA Division 2 Regional Track and Field Meet at Colby Monday. Tomahawk will compete with a total of 13 events among 15 athletes. The following athletes and events will compete in the WIAA Division 2 Sectional Track and Field Meet in Arcadia Thursday afternoon: Presley Gutbrod - 200 meter dash, High Jump Zach Hanse - 300 meter hurdles Boys 4x800 Meter Relay - Ty Anthes, Ethan Gibeault, Beau Stromberg, Sam Zastrow Joey Reiter - Discus Alicia Voermans - 100 meter dash, Pole Vault Faith and Halle Derleth - 200 meter dash Robin Schmidt - 3200 meter run Girls 4x100 Meter Relay - Halle Derleth, Faith Derleth, Marie Gorell, Alicia Voermans Girls 4x200 Meter Relay - Halle Derleth, Faith Derleth, Marie Gorell, Alicia Voermans Girls 4x800 Meter Relay - Paige DeKiep, Morgan Hansmann, Alli Palmer, Robin Schmidt Ayla McCormick - Discus
+ Read More
Hatchet Baseball Team Wins First Game of the Season
Published on 05/23/2023 under Sports The Hatchet baseball squad closed out the 2023 regular season with a home non-conference victory against Tigerton Monday afternoon, winning 15-5. Tomahawk amasses 11 hits in the game, including three from Zach Friske and two from Tyler Jablonski. Friske went three for four with a triple and three RBIs while Jablonski went two for four with a double, two RBIs, and four runs scored. The Hatchets finish the 2023 regular season with a 1-18 overall record and an 0-12 Great Northern Conference record. #14 seed Tomahawk will begin postseason play Thursday in the WIAA Division 3 Regional First Round at #3 seed Clayton/Turtle Lake.
+ Read More
5:00 until 10:00AM
Jeff in the Morning
Zach with the News

9:35AM
Monday - Friday
Morning Conversation

8:30am - 9:00am
Monday – Saturday
Trig's Trading Mart
Call (715) 453-4481 to buy, sell, wanted, trade or help your neighbor.