Three Selected to Receive 2021 Tomahawk Chamber Awards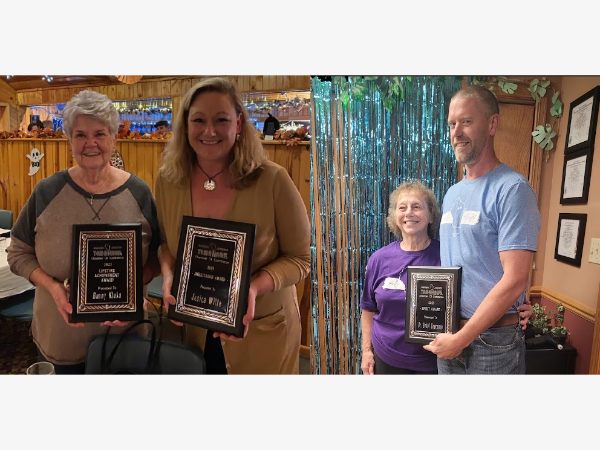 Published on 10/15/2021 under News At their annual dinner this week, the Tomahawk Regional Chamber of Commerce celebrated another group of residents that have contributed their time and talents to the community. Three awards have been presented each year to honor those in the greater Tomahawk area, making it a better place to live, work and visit. Fitting as her spirit lives on in the community, Dr. Bobbi Voermans was the recipient of this year's Spirit Award. Prior to her passing this summer, Dr. Bobbi was heavily involved in community and volunteerism. This includes her work with the Tomahawk Kinship program. She was also the founder of the Tomahawk Sunshine in the Street bringing a message of positivity to the community each spring. And her words, "Have your Best Day!" continue to line the streets of Tomahawk via sign. The award was presented to husband Grant Voermans and mother Elaine Steinhafel. Recently retired, longtime owner of Bootleggers Bunny Kluka was presented with the Lifetime Service Award for her work the chamber over the years. And the Ambassador Award is given to an individual or group who presents the community in a positive light. Former Chamber director Jesica Witte has handed out that award on a number of occasions. This year the roles were reversed, as it was Witte receiving this year's Ambassador Award for her work with the Chamber over the years.
+ Read More
Northwoods Projects Share in Broadband Expansion
Published on 10/15/2021 under News Several Northwoods Broadband projects are among those receiving funding through the latest round of Broadband Access Grants. On Thursday, the Public Service Commission of Wisconsin announced 83 projects would share in nearly $100 million coming from American Rescue Plan Act. Among the projects, in Vilas County, a Sonicnet project in the Town of Washington received $350,000. The Price County Telephone Company received nearly $2 million for a project in Phillips and surrounding communities. And Northwoods Connect received $2.3 million for a project encompassing Forest, Vilas and Oneida Counties that includes Crandon, Laona, and Three Lakes. Each recipient is providing matching funds, in most cases a significantly larger investment.Statewide, the funds are expected expand fiber broadband internet to more than 28,000 residential and nearly 1,500 business locations across 40 counties and 3 tribal lands. The PSC says they received 242 applications requesting more than $440 million.
+ Read More
Tomahawk High School Receives Grant Based on Student Certifications in Career and Tech Ed.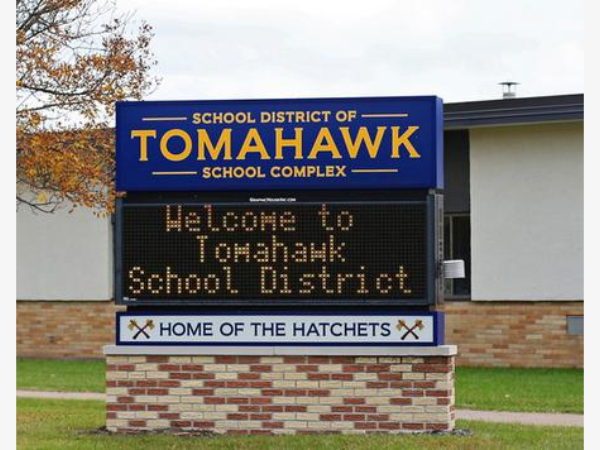 Published on 10/15/2021 under News A growing number of high school classes are geared towards preparing students to immediately step into the workforce. Based on recent student success, the Tomahawk School District has received funding to further these types of programs. Back in 2013, the state established the Career & Technical Education Incentive Grant in collaboration with the Department of Workforce Development and the Wisconsin Technical College System. They reimburse the school with up to $1,000 for each student the earns an industry-recognized certification. According to Tomahawk High School Principal Ryan Huseby, Tomahawk High School received nearly $28,000 as a result of certifications earned through the class of 2020. Huseby said at Tuesday's School Board meeting, "This has been an excellent program for our students and school with funding being used to enhance and provide new Career & Technical Education (CTE) curriculum, equipment and experiences. Huseby says the Class of 2021 earned 57 industry certificates, and the district will once again apply in this cycle.
+ Read More
DNR: Know the Difference Between Deer and Elk Before Shooting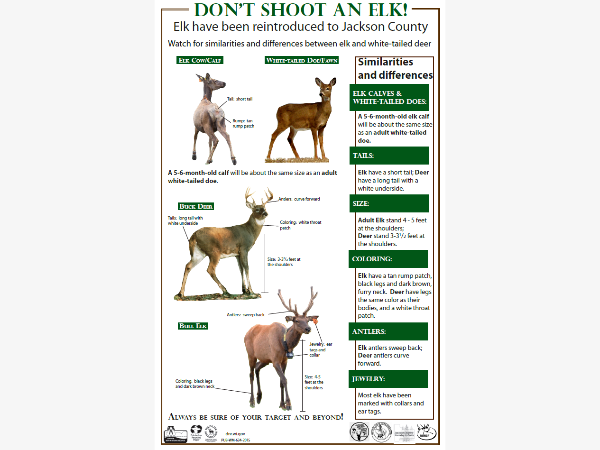 Published on 10/15/2021 under News With archery and crossbow deer seasons already underway and the gun deer season in just over a month, the DNR is encouraging hunters to know their target. While white-tailed deer are far more prevalent, Wisconsin is also home to around 400 elk. The DNR has launched a campaign to reminder hunters of the difference. •The most notable difference is the size, as an adult elk will stand about 1-2 feet taller than an adult deer. •While a smaller elk may be similar to a large deer, the two also have different color markings. An elk typically has a tan rump patch, black legs and a dark brown mane. Deer on the other hand, are typically a lighter tan with their legs matching their bodies. They'll have a white throat patch and the namesake fluffy white tail. •Antlers can also be a giveaway. A bull elk's antlers sweep backwards from the animals head, a white-tailed buck's antlers curve forward. •And in Wisconsin specifically, accessories make a difference. Most elk either have an ear tag or GPS collar. Last year, two elk were unintentionally taken on opening day of the deer season. The DNR says any elk taken without a tag may result in a fine and a revocation of your hunting license.
+ Read More
Hatchets Sports Recap - Thursday
Published on 10/15/2021 under Sports GIRLS SWIMMING The Tomahawk Girls Swimming Team lost a dual to Antigo on Thursday night 85-59. Tomahawk 1st Place Finishers: 200 Yard Medley Relay - Courtney Cecil, Joanna Phillips, Paige Dekiep, and Maddie List200 Yard Freestyle - Joanna Phillips50 Yard Freestyle - Courtney Cecil100 Yard Freestyle - Paige Dekiep200 Yard Freestyle Relay - Maddie List, Abigail Roberts, Brynnen Stefan, and Courtney Cecil100 Yard Backstroke - Paige Dekiep NEXT: The Tomahawk Girls Swimming Team will compete in the Great Northern Conference Meet next Friday, October 22nd at Rhinelander High School. JV2 VOLLEYBALL The Tomahawk JV2 Volleyball Team went 2-1 in a quad at Lakeland on Thursday night. Tomahawk beat Lakeland and Northland Pines, and lost to Phillips. That concludes the season for the JV2 Volleyball team. The Tomahawk Varsity Volleyball team will play in the first round of the WIAA Tournament on Tuesday at 7:00pm. Tomahawk is a #5 seed and will host #12 seed New London. You can hear the game on Northwoods 92.5FM.
+ Read More
Hatchets Sports Recap - Tuesday
Published on 10/13/2021 under Sports VOLLEYBALL The Tomahawk Varsity Volleyball Team defeated Antigo in three sets on Tuesday night to finish out their regular season. The scores were 25-11, 25-18 and 25-19. Meghan Scholz led the team with 6 blocks and 13 kills. Mackenzie Scholz led the team with 4 aces. Claire Albert and Alyssa Zehner both led with 10 digs. Mackenzie Scholz also finished with 21 assists and reached 1,000 career assists during Tuesday's match. NEXT: The Hatchets will host New London in the first round of the WIAA Tournament on Tuesday at 7pm. Admission is $6 for all spectators, no passes allowed for this event. You can hear the game on Northwoods 92.5FM. MIDDLE SCHOOL VOLLEYBALL The Tomahawk 8th Grade Volleyball Team played at the DC Everest 8th Grade Volleyball Invitational on Tuesday night. There were a total of 8 teams. The Hatchets went undefeated in pool play beating Rhinelander, DC Everest and John Muir to make it to the championship match against Marshfield. The Hatchets lost the first game against Marshfield 23-25, but rallied back to win the next two games to claim the title of champions. Congratulations to the 8th Grade Volleyball Team! MIDDLE SCHOOL FOOTBALL The Tomahawk 8th Grade Football team won 37-14 over Antigo on Tuesday. The Tomahawk 8th Grade Football Team finishes the season undefeated with a 6-0 record. Congratulations to the 8th Grade Football Team!
+ Read More
Hatchets Sports Recap - Monday
Published on 10/12/2021 under Sports FOOTBALL The Tomahawk Hatchets JV Football team lost 14-7 to Oconto Falls on Monday night to finish their season. The Varsity Hatchets will travel to Oconto Falls on Friday night at 7:00pm. You can hear that game on Northwoods 92.5FM. VOLLEYBALL The Tomahawk Varsity Volleyball team found out on Monday who they will play in the first round of the WIAA Tournament. Tomahawk is a #5 seed and will host #12 seed New London next Tuesday at 7:00pm. You can hear the game on Northwoods 92.5FM.
+ Read More
5:00 until 10:00AM
Jeff in the Morning
Zach with the News | Hunter with Sports

10:00AM - 3:00PM
Phil on Monday
Hunter on Tuesday - Friday

Late Afternoons and Evenings
Michael

Morning Conversation 9:35AM Monday - Friday