Nicolet Named 'Promising Place to Work' by National Diversity Groups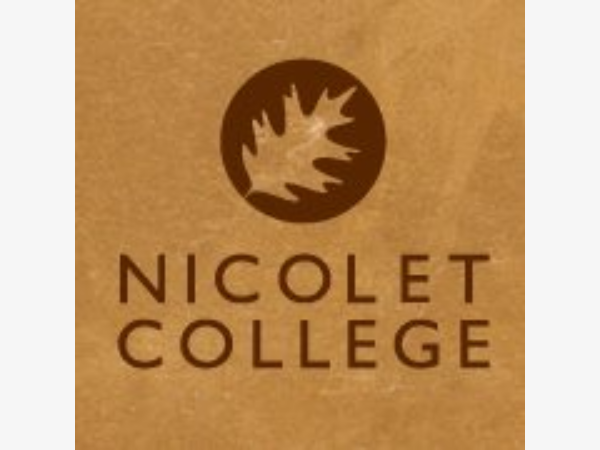 Published on 06/15/2021 under News For the second consecutive year, Nicolet College has been named a 'Promising Places to Work' award winner by two national organizations that support diversity efforts by community colleges across the country. The National Institute for Staff and Organizational Development partnered with Diverse: Issues in Higher Education to recognize Nicolet for its "best-in-class student and staff recruitment and retention practices, inclusive learning and working environments, and meaningful community service and engagement opportunities." The school highlighted several recent efforts that contributed to the award including their 10 member diversity, equity and inclusion committee, interviewer bias training on hiring committees, and professional development workshops by indigenous presenters. They've been able to utilize a grant from the Lumina Foundation to build clearer pathways to degrees for adults, particularly those of color or Native America Learners. Nicolet also works with the Wisconsin Indian Education Association to implement 'The Many Ways of Knowing: American Indian Culture Competencies for Community College Career Pathways' 'project. Nicolet was the only college in Wisconsin and one of 16 across the country to receive the honor in the two most recent years.
+ Read More
Update: Victims Identified in Fatal Brokaw Crash
Published on 06/15/2021 under News Officials have released the names of the two victims in a fatal crash this weekend in Brokaw. According to the Wisconsin State Patrol, that three vehicle collision happened Sunday afternoon on Highway 51 South. The initial investigation showed the first SUV rear-ended a second, sending that vehicle forward into a third SUV. The two backseat passengers in the middle vehicle sustained fatal injuries and were pronounced dead at the scene. Yesterday, the State Patrol identified the victims as 88 year old Ralph Rosenbecker and 99 year old Darlene Rosenbecker. Both are from Mukwonago. Between the three vehicles, there were five other occupants. None listed further injuries from the crash. The Wisconsin State Patrol and the Marathon County Sheriff's Office continue to investigate.
+ Read More
Blood Donations Encouraged Ahead of Summer; Declining Inventory
Published on 06/15/2021 under News Officials are encouraging blood donations with a dwindling inventory ahead of their busiest season. On Monday, the American Red Cross highlighted a "severe blood shortage" on World Blood Donor Day, recognized yesterday. They note that hospitals are currently responding to an atypically high number of traumas and emergency room visits. And this year, they note that more patients are being treated at hospitals after deferring their care during the pandemic. This comes ahead of the summer, which is typically when blood donations are most in demand due to travel and other summer activities. Dr. Baia Lasky is medical director with the Red Cross. Lasky says, "As many people begin to enjoy travel and time with loved ones again this summer, patients are relying on the generosity of donors to help ensure they have access to the treatment they need." We routinely post local blood drives in the WJJQ Community Calendar including both the American Red Cross and Community Blood Center.
+ Read More
Local Communities Planning for 'Normal' 4th of July Celebrations
Published on 06/15/2021 under News The Fourth of July is less than a month away. After a one year pause due to the pandemic, a number of Northwoods celebrations will return in 2021. Last year, most July 4th celebrations in the Northwoods were postponed. Local organizers have been busy planning for a return this Independence Day. We've recently received schedules for a number of community celebrations. The latest came from Merrill City Administrator David Johnson. On Monday, he confirmed that the annual Merrill fireworks show would return this year. A bit further north, the respective Chambers in Eagle River, Rhinelander, and Minocqua have all shared their 4th of July parades will be back and they are accepting parade entries. As we've mentioned a number of times here on WJJQ, the Tomahawk Lions Club have been busy planning this year's Powwow Days celebration as well. Of course, we'll be covering these events as they approach.
+ Read More
Hatchets Sports Recap - Monday
Published on 06/15/2021 under Sports SOFTBALL: The season for the Tomahawk Hatchets Softball Team came to end with a heartbreaking 8-7 loss in 11 innings to the Westfield Pioneers in the WIAA Tournament on Monday. The Hatchets scored first with one run in the first inning, but Westfield took a 4-1 lead with 4 runs in the third inning. They added one more run to take a 5-1 lead to the bottom of the fifth inning. But the Hatchets stormed back with 4 runs in the bottom of the fifth inning to tie the game at 5. The game stayed tied and went to extra innings. Maddie Marino (Tomahawk) and Trista Drew (Westfield) both pitched the entire game for their teams and kept the opposition scoreless until the 11th inning. Westfield scored 3 runs in the top of the 11th inning, and the Hatchets had work to do in the bottom of the 11th. The Hatchets were able to score 2 runs, but Maddie Marino flew out to centerfield with Scout Stromberg on second base to end the game. The Hatchets lost 8-7 and Westfield moves on in the WIAA Tournament. TRACK AND FIELD: The Hatchets Girls and Boys Track and Field Teams competed in the WIAA Regional Meet in Medford on Monday. Many Hatchets qualified for the WIAA Sectional Meet on Thursday. See below. Girls Sectional Qualifiers: -2nd Rachael Reilly- 3200m run -3rd 4x800m relay- Morgan Hansmann, Kate Reilly, Rachael Reilly, Macey Mann -3rd 4x200m relay- Maddie McCormick, Autumn Peissig, Halle Derleth, Karlie Woodall -4th Ava Dragosh Pole Vault Boys Sectional Qualifiers:-1st Ethan Liebnitz Pole Vault -1st Noah Buckwalter 800m run -2nd Drew Bolder 1600m Run -2nd Drew Bolder 3200m run -2nd Alex Norman 800m run -4th Dakota Jelinek Long Jump
+ Read More
Hatchets Sports Recap - Thursday
Published on 06/11/2021 under Sports BASEBALL: The Tomahawk Hatchets Baseball Team lost to Antigo 16-2 in the first round of the WIAA Tournament on Thursday night. The Hatchets got out to a 2-0 lead with a two-run triple by Tyler Jablonski in the second inning, but Antigo came storming back. The Red Robins scored 5 runs in the second inning, 9 runs in the third inning, and 2 more runs in the 4th inning. Antigo will play Rhinelander on Tuesday in the second round of the WIAA Tournament. Tomahawk finishes the season with a 3-16 record.
+ Read More
Hatchets Sports Recap - Tuesday
Published on 06/09/2021 under Sports SOFTBALL: The Hatchets Varsity Softball Team lost to Merrill 10-0 on Tuesday night. The Hatchets will begin WIAA Tournament play and host Westfield on Monday at 4:30pm at Hatchet Field. You can hear the game on Northwoods 92.5. Since it will be a WIAA Tournament game, there will be a fee to get into the game. It will be $6/person and children 6 and under are free. BASEBALL: The Hatchets Varsity Baseball Team wrapped up their regular season on Tuesday night with a 7-2 to loss to Rosholt. The Hatchets travel to Antigo at 5:00pm on Thursday to begin WIAA Tournament play. You can hear the game on Northwoods 92.5. TRACK AND FIELD: The Hatchets Boys and Girls Track and Field teams competed in the Great Northern Conference Meet at Medford on Tuesday. The Hatchet Boys and Girls teams both finished 7th. BOYS TOP FINISHERS: 1st - 800m Run - Noah Buckwalter 1st - 4x800m relay- Brett borchardt, Noah Buckwalter, Alex norman, Drew Bolder2nd - 3200m Run - Drew Bolder GIRLS TOP FINISHERS: 2nd - 4x200m Relay- Maddie McCormick, Autumn Peissig, Halle Derleth, Karlie Woodall2nd - 4x800m Relay- Kate Reilly, Morgan Hansmann, Macey Mann, Rachael Reilly
+ Read More
5:00 until 10:00AM
Jeff in the Morning
Zach with the News | Hunter with Sports

10:00AM - 3:00PM
Phil on Monday
Hunter on Tuesday - Friday

Late Afternoons and Evenings
Michael

Morning Conversation 9:35AM Monday - Friday