Nascar Challenge Continues
The Big Q's Nascar Challenge contest continues, with a chance to win a $25.00 gift card from Outboards Bar & Grill weekly, $50 in Chamber Bucks as the monthly prize or a chance to win a large screen TV as the grand prize from Tomahawk Appliance and Home. All the contest information and entry available here: Nascar Challenge
Lincoln County Sheriff Fall Ride Report: No Major Incidents
Published on 09/16/2019 under News Sometimes no news is good news, and that was the case in Lincoln County this weekend for Fall Ride. The Lincoln Sheriff's Office says that with the large number of motorcycles in the area, coupled with added patrol hours through a state grant, they did see an increase in the volume of calls. However, they reported no major incidents were investigated by the Sheriff's Office during Fall Ride weekend. They also said no motorcycles were involved in any crashes on Lincoln County Roadways. We expect to hear from the Tomahawk Police Department later today regarding any calls within the City.
+ Read More
Deputies Assist Kayakers in Prairie River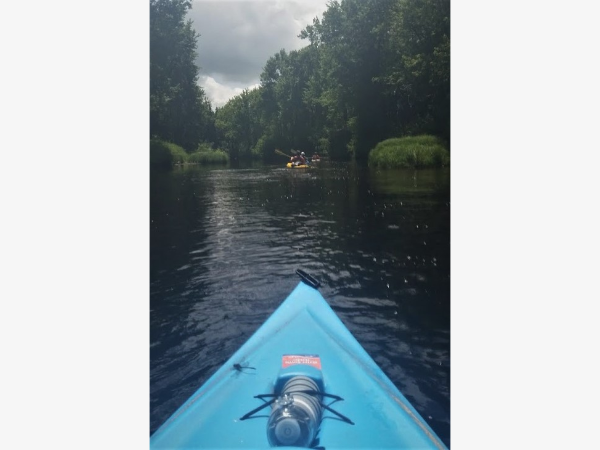 Published on 09/16/2019 under News For the third time in recent weeks, deputies from the Lincoln County Sheriff's Office assisted in rescuing kayakers that became stranded. While the previous two responses occurred on the Wisconsin River east of Tomahawk, this weekend's incident happened on the Prairie River south of Gleason. A 911 caller initially reported an empty kayak floating down the river at around 4pm Sunday. Deputies later learned that four paddlers were thrown from their kayaks. Eventually all four of the kayakers were located safe. One of the deputies was able to locate two of the four missing kayaks by utilizing a drone.
+ Read More
Several Local Schools Receive AODA Grants
Published on 09/16/2019 under News Several local school districts were selected to receive grants aimed at reducing or preventing the use of alcohol, tobacco and drugs among students. Overall, the Department of Public Instruction awarded nearly $900,000 in grants to 68 school districts. Among the recipients are three local districts in Lac du Flambeau, Athens, and Phillips. State Superintendent Carolyn Stanford Taylor said in announcing the grants, "Many of our funded schools will take a comprehensive approach to addressing AODA issues by employing multiple strategies. There is recognition of the need to look at students' use of drugs, alcohol, or tobacco in the larger context, encompassing the mental health and well-being of the school community as a whole." AODA program grants support teaching of skills and information along with necessary resources to prevent alcohol and drug use. These grants use multiple strategies and link resources from home, community agencies, and the school. These grants are eligible to be renewed for next school year, as well.
+ Read More
DNR Encourages CWD Testing in Northwoods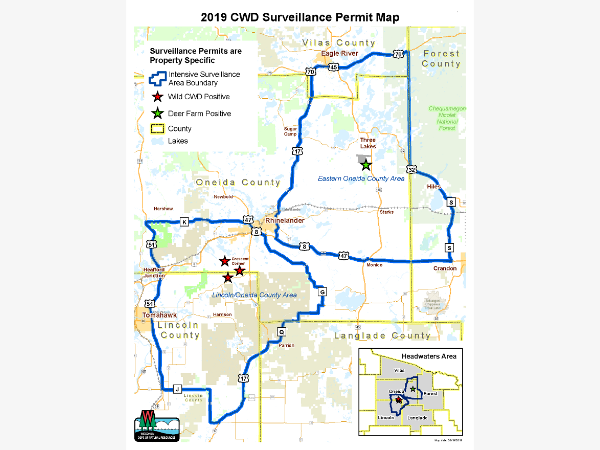 Published on 09/16/2019 under News With the bow season opening this past weekend, the DNR is again encouraging hunters in the Northwoods to submit samples for testing of chronic wasting disease. With three positive tests along the Oneida/Lincoln County border in the past year, this region is one of the DNR's areas of focus. Hunters who harvest an adult deer in Lincoln, Langlade, Oneida, Vilas, Forest and Florence counties are strongly encouraged to submit samples for testing. The DNR says, "The health of the deer herd relies upon commitment from our hunters. Managing CWD begins with knowing where the disease already exists on the landscape, and having this knowledge is only possible with a robust sample size." There are two smaller regions surrounding the positive tests where the DNR will again make property specific CWD Surveillance Tags available. (Contact Jaqi Christopher in Rhinelander by phone (715-401-2871) or email at jacquelyn.christopher@wisconsin.gov to set up an appointment. Surveillance permits cannot be issued by customer service staff or online.) Acting DNR Director Tami Ryan said in the announcement, "We're grateful for hunters making that extra effort to have their deer sampled for CWD, and to support them, we continue to make access to sampling simpler, faster and easier each year." CWD testing is free, and results are usually returned in two to three weeks. There are a number of drop-off locations available including kiosks at DNR stations in Tomahawk, Prentice, Merrill and Rhinelander. The DNR has a full list on their website. (Photo: The DNR is granting CWD Surveillance Permits on properties in the Northwoods. In addition to these permits, they encourage Northwoods hunters to submit samples.)
+ Read More
Hatchet Cross Country Teams Compete in Shawano Invite
Published on 09/16/2019 under Sports After unsafe course conditions canceled their meet at Fall Creek, a quick revision enabled the Hatchet Cross-Country team to travel to Shawano on Saturday for a 27-team invitational against several StateRanked teams. The girls and boys varsity both placed in the runner-up spot in D2, while the JV squads both placed 3rd overall out of all D1-2-3 teams. Overall the varsity girls placed 3rd of 26 teams, while the boys placed 4th of 27 teams. Drew Bolder was the top Hatchet as he placed 4th in D2 (15th overall in the 177 runner field) with his 17:27 5K effort. He was the lone D2 medalist for the Hatchet boys. Teammate Noah Buckwalter (D214th-17:55), Garron Albrent (D2-18th-18:18), Keaton Jed (D2-22nd-18:31), Trey Baalke (D2-25th-18:39), Arden Ziert (D2-28th-18:45), and Jack Lacina (D2-43rd-19:37) completed the varsity scoring for the runner-up D2 finishers. Seniors Haley-Voermans-Dean and Meagan Berg led the lady Hatchets with their 4th and 9th place D2 medalists efforts. Haley covered the 5K course in 20:01 and Meagan went 20:56. They were followed closely by sophomores Emily Lacina (D2-12th-21:05), Macey Mann (D2-18th-21:47), Kate Reilly (D2-19th21:51), and Geena Wanta (D2-33rd-23:24). Also, contributing on the varsity level was freshman Neenah Fuste as she placed 43rd in 24:12. The girls JV squad started the invitational off in the first race of the day by placing 3rd overall out of 18 teams. They were led by freshman Greta Tjugum's personal best 5K effort of 23:19. Greta finished as a 6th place medalist. She also shared space on the medalist podium with teammates Serena Reinke (10th23:28 PR) and Gillian Buckwalter (15th-23:49 SB). Other JV finishers included: Autumn Peissig (25th24:30), Leslie Vance (38th-25:16 PR) and Ava Dragosh (68th-26:30). The boys JV squad was led by Alex Norman's 9th place medalist PR effort of 18:48. Hunter Borchardt (17th-19:22 SB), Hunter VanRyen (30th-19:58 SB), Reed Zedler (43rd-20:19 PR), Brady Tjugum (53rd-20:42 SB), Jacob Towle (81st-21:14 PR), Taje Casey (119th-22:23 PR), John Mark Hawley (154th -23:39 PR), Trey Miller (193rd) and Henry Calhoun (194th) were the final Hatchet JV finishers. Boys Varsity (D2) Team Scores: New London (31), Tomahawk (79), Winneconne (97), Shawano (131), Peshtigo (131), Seymour (133), Xavier (137), Oconto Falls (181), Marinette (Inc) and Sturgeon Bay (Inc). Girls Varsity (D2) Team Scores: Winneconne (43), Tomahawk (59), Xavier (89), Shawano (90), New London (130), Oconto Falls (172), Marinette (173), Peshtigo (197), Sturgeon Bay (209) and Seymour (Inc.) Next week Saturday the Hatchets make their annual visit to the Tribute Golf Course on the north side of Wausau for the prestigious Smiley Invitational, one of the largest Cross-Country invitationals in the Midwest. The meet gets started with the boys JV race at 8:30 am.
+ Read More
Hatchet Girls Swimming Team Defeats Colby
Published on 09/13/2019 under Sports The Tomahawk Hatchet Girls Swimming Team improved to 2-0 in the Great Northern Conference with an 89-81 win over Colby at the Tomahawk Swimming Pool on Thursday night. Molly Mott won the 200 IM and 100 Breaststroke and Megan Miles won the 100 butterfly and 100 backstroke. Tomahawk also had first place finishes in the 200 free and 400 free relays. Tomahawk will be back in the pool on Saturday at the Ashwaubenon Tournament, with action beginning at 10:00 am.
+ Read More
Hatchet Cross Country Teams Ranked Highly in Coaches Poll
Published on 09/12/2019 under Sports The Wisconsin Cross Country Coaches Association has released their Week Two rankings, and the Hatchet Girls and Boys are both ranked this week. The lady Hatchets are ranked fifth in Division Two, up five spots from last week. The Hatchet boys are ranked sixteenth this week in Division Two. Other teams garnering rankings included in D2 Girls: Medford - 4th and Lakeland - 8th. On the boys side, Medford is ranked 12th and Lakeland 15th. The Hatchet Cross Country Teams will compete in the Fall Creek Cricket Invite on Saturday.
+ Read More
Jeff in the Morning and Zach with the News
5:00 until 10:00AM

Phil at Mid-Days on Monday & Tuesday
Tim at Mid-days on Wednesday - Friday

Michael Late Afternoons and Evenings

Morning Forum 9:35AM Monday - Friday